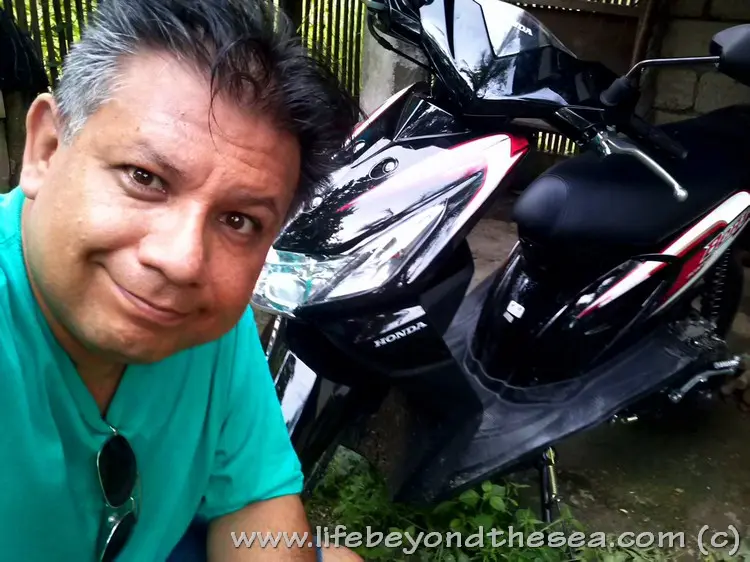 Well, to begin with I've never ridden a motorcycle growing up.  So learning to ride a scooter in the Philippines was an altogether new experience for me to say the least.  When I was in high school I rode ten-speed for two years all over the place and got familiar with some of the basic dynamics, so that kinda gave me a starting point when I recently purchased a Honda Beat ACC110 here on Bohol for getting around town.
While I was living on Mactan I could just grab a hubal-hubal, tricycle, jeepney, v-hire, ferry or bus to anywhere I wanted to go simply by walking a block from my house.  But when I moved to the province of Bohol in March, 2013, the first thing I felt was 'stranded' away from civilization being out in the rural area outside of nearby Tagbilaran.
So, once I got my home settled, my first ambition was to see if I could walk the 'jungle road' from my place to town in the dark by myself.  Getting lost was my first concern.  Lunatic robbers spotting me in the middle of nowhere to rob me were second.  Ghosts, witches, zombies and cobras were the least of my worries.  So one ambitious day I asked the neighbor to drop me off in town and leave me there.  That way I'd have to choice but to walk home.  After they dropped my friend off at the pier they left me at the mall where I stayed until it got dark and then shot some video along the way as I made my way home in the dark.
Once I accomplished that I didn't feel so stranded.  I hated to inconvenience my neighbor each time I needed groceries or just wanted to catch a movie in town so walking in both the heat of the day and the darkness of night became my normal routine.  Normal to me anyway.  The local people in the village began to wonder just what was wrong with me that I'd even consider doing that.  Mostly for fear that there are snakes and strange creatures in the jungle at night.  Well, most cobras here are in the trees and brush, not on the open road.  Not that anyone here could even recall the last time they even saw a cobra.  But the idea of robbers lying in wait kinda came home for me when I got mugged in Cebu.  After that I began taking a baton with me and would practice my strikes as I walked in the darkness along the road.  I got used to walking in near pitch blackness on nights without any moon because I didn't want to give away my position.  After 15 minutes or so my eyes would adjust to the low light and I was fine.  I moved through the road just a shadow.. with a heavy stick, just in case.
But I knew I was pushing it and my luck o' the Irish would only last so long.  I'd originally planned on getting a multi-cab but as I got more paranoid each night and began hiding in side paths in the brush whenever an evening passer-by came along.. I figured the dangers of a motorcycle or scooter were less than those of walking late at night 3 to 4 nights a week.  I kinda of liked the exercise and the view of the stars and fireflies on a pitch-black night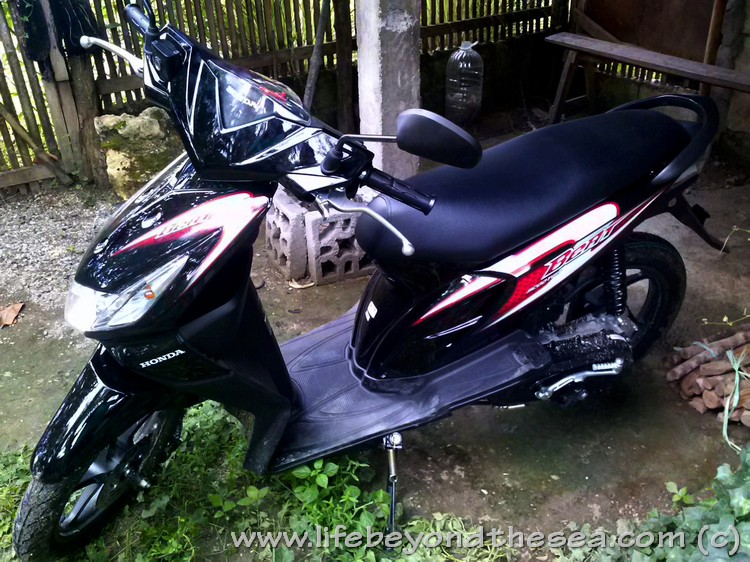 away from town is SO incredible, it's hard to give it justice with mere words.  You just have to experience the stark contrast and sound of crickets in multitude to really know what it's like.
But, it was time to get some wheels so.. after a bit of this and that I had picked out the Honda Beat ACC110 as the perfect sized scooter for me to learn on.  Not too much power or weight, fuel efficient, brand-new from the dealer and it extend my wandering radius.  
My very first afternoon I received the bike, I had about two hours to practice on it before needing to take my neighbor to work and then figure out how to ride it back home.. in the dark.  So I took inventory of the major buttons, brakes, mirrors and such and went for a quick, self-taught course around the country roads here in the jungle around my home.  I went down roads I didn't even know were there before.  I didn't have a helmet-cam figured out yet but I did shoot a little video that first day here..
Probably my best decision about all this is that I decided ahead of time that I would go with an Automatic rather than a Manual transmission.  I'd tried riding another scooter on Mactan and nearly crashed into both a wall and a tree in less than an hour.  I know how to juggle basketballs, but I'm not coordinated enough for playing drums or doing that whole clutch/gear-shift thing hidden down by the feet somewhere.  So, with an automatic I just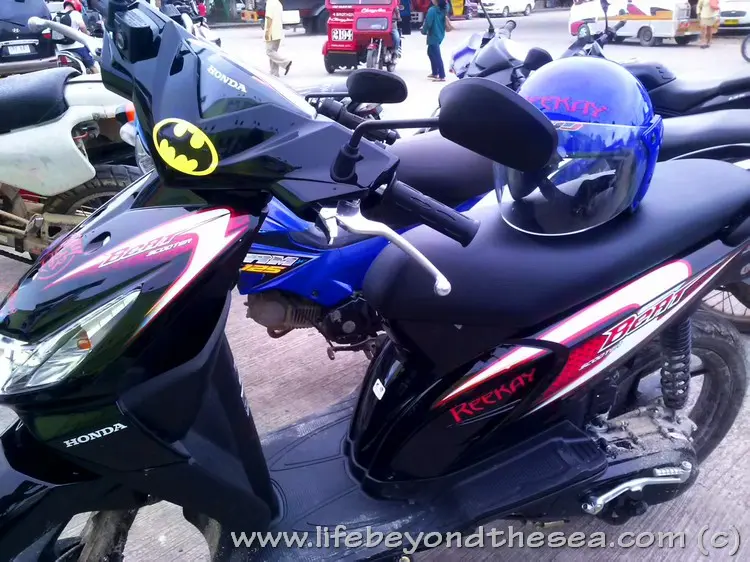 focus on the other hundred things like oncoming jeepneys, pot-holes and side-traffic.
As of this writing it's now been a week that I've practiced on it and some of those moves I knew from riding 10-speed are coming back to me.  'Steering' by using my weight, knees and tilting are becoming second-nature again.  It's just like.. well, riding a bike.  It all comes back to you.  Up until a few days ago I limited my rides to just to and from the ICM mall.  I take the usual jungle-road in the day-time and I take the smoother road home at night.  But I don't take the smoother road in the day-time because it goes along a winding road that leads to a nearby quarry.  Quarries attract cement trucks who really don't give a damn about little things like scooters as they barrel down the 2-lane road passing buses or jeepneys.. using up the entire road.  It really sucks but, that's the kind of traffic you deal with either in Mexico or here.  You.. small, They big.  That's all that seems to matter around here.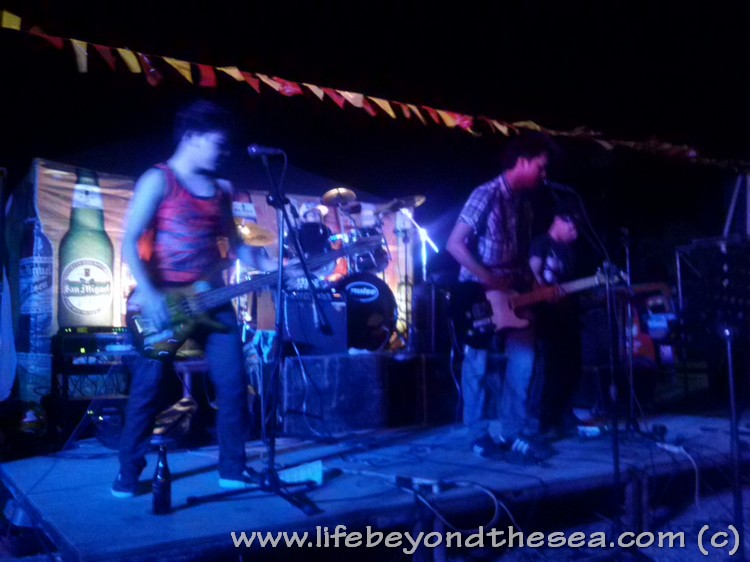 But then starting a few nights ago I began exploring around town since there isn't much traffic after 9pm.  Even on a Saturday night it's minimal traffic around here.   Daytime it's a total zoo, but not nearly as bad as downtown Cebu so, I've kinda got it easy here.   I took a ride Saturday night to the local pier where they have live music and lots of good BBQ along the pier road there.  I hung out there awhile, the band was playing some classic rock/punk so that was pretty cool.  Mostly high-school kids and a gaggle of expat bikers with their Filipina wives for the most part.  I then decide to start heading home and.. I got lost.  Again.
The first day I dropped off my neighbor at work, I then got lost for about two hours as I explored a huge patch of Tagbilaran.. twice.  I don't know how I did it but I circled around everything twice that day.  Now, at night.. I got lost again.  But this time for only 45 minutes so.. I call that 'improvement'.
On Sunday I took a new approach.  This time, in order to find the route from the ICM mall to the BQ mall.. I simply waited and followed one of the jeepneys on it's route.  That worked like a charm.  I also uploaded to my phone some Google maps of Tagbilaran, which I can zoom in on in my photo-viewer and that helped me a bit too, even though most roads here either aren't marked or lit up.  But by using the main roads a arteries I can make my way home now from both malls without incident.
As for any 'close-calls' so far.. nothing too major.  I got the crap scared outta me when an ambulance zoomed up from behind me on the main road with no siren.  The irony of an ambulance causing an accident seemed on par with life here.  I also hit a pot-hole faster than I preferred and almost lost control.. but if that Filipina along the roadside hadn't been looking so cute it never would have happened in the first place.  Those women really should come with some kind of warning label or something.
My next order of business was to have some custom decals made for my helmet and bike.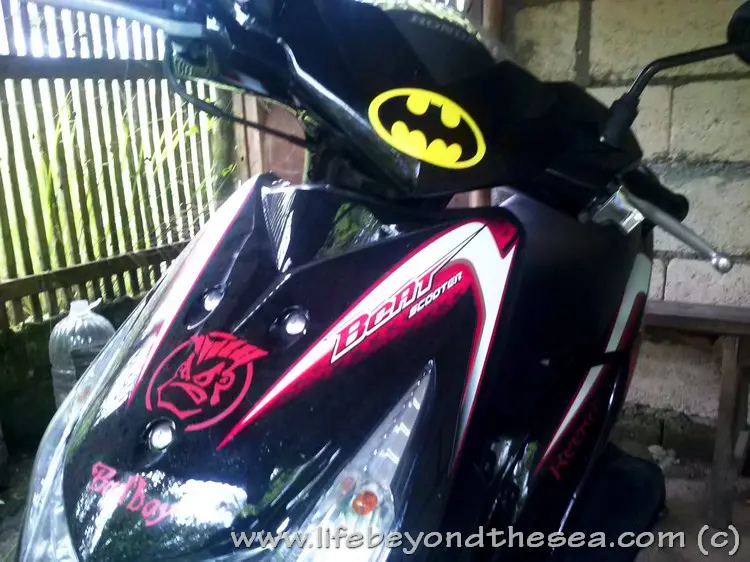 I found a place at the BQ mall where a guy uses a cutter-printer on vinyl to make what I wanted.  I got 'REEKAY' for both sides of the bike and one for my helmet, along with a Batman sticker (I'm a long-time Batman fan since way before the first cinema movies came out).  The Batman sticker also makes it easy to spot my bike in the lot from the mall window so I can be assured it hasn't been stolen yet.
That's been my chief concern now as I go places.  Secure parking.  For now only at the major malls near security or along places where I can see the bike the whole time from where I'm eating.  I lock the steering wheel, use the key-lock cover but someone determined to steal a car or bike will do so.  Main thing is to keep the thing parked somewhere in the open near security.. and even then it's no guarantee.  I've had my car stolen twice in the States, once it was the morning of my birthday.. so I know that feeling, and it sucks.  The word I got here is some gangs from Manila have come south to steal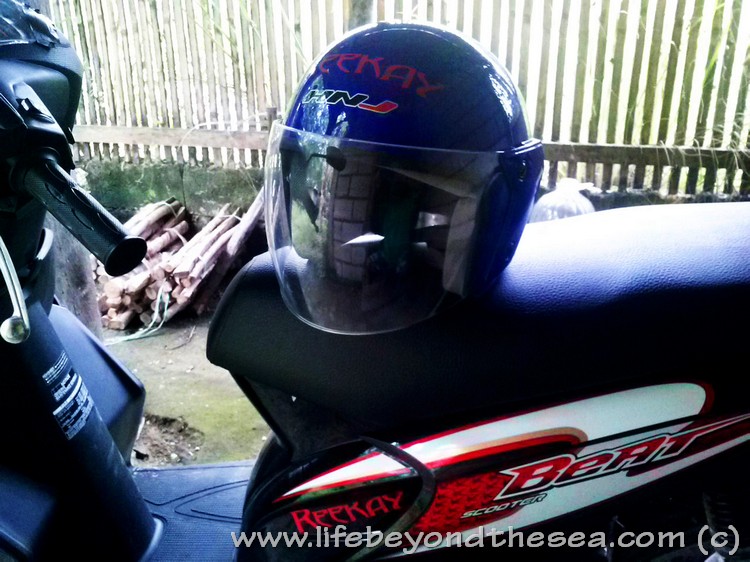 certain motorcycles to sell off the motor for use in making small boats, then selling off the rest in parts.  If I ever come out and find someone messing with my bike.. I will be in their face pronto.
I've just been waiting for better sunshine days to do some video and day-trips to Alona Beach on my new wheels.  There's been a heavy storm here for about two weeks so I've ridden home twice in the rain.  I had bought a plastic poncho but.. I forgot it at the house.  Now it's under the seat in a compartment.  (duh)   Today I plan to get some clear safety goggles for evening rides.  Daytime I use my sunglasses but the other day around sunset I was riding along.. everything was fine when… the LAST thing I saw before getting blinded was a flying bug going straight for my eye.  Damn!.. that hurt.  I didn't panic though.  I always hit Rear-brake first, Front-brake second with no major movements to the handlebars, letting go of the throttle.  That bug decommissioned me for about 3 minutes as my eye turned all red before I got it out.  So.. clear safety goggles is next on my shopping list along with some riding gloves.  I've also started wearing shoes again, I have no interest in riding the bike with sandals even though that's pretty common here.  Lots of people here don't even wear helmets.  Then again, they'll have four people including a baby dangling on the side.  Again, pretty common sight here in daily traffic.
Time for me to take another trip into town.  For now here is my test-video of the helmet-cam.  I'll do some nicer rides later leading to Alona Beach when I can.  Meanwhile, keep me in your prayers as I'm still quite a newbie to this whole 2-wheeled transportation gig.
Henry 'Reekay' V.
www.lifebeyondthesea.com

Since 2012 I've been traveling through various islands of the Philippines as a full-time Expat and spent 1999 living in Vietnam.
Share with me my ongoing adventures of life in the Philippines. Hopefully you find my observations helpful in your own adventures.
— Reekay