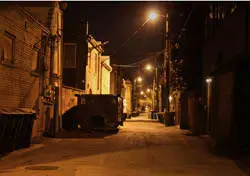 Most days here in the Philippines things move along pretty smoothly.  Maybe once every two months you might have some minor inconvenience in the day.  But you know the day has taken a bad turn when you find yourself getting mugged by three men intent on stealing all your stuff.  That was pretty much how my day went from bad to worse two days ago.

It all started the night before.  I had made plans for an overnight trip to Bogo to check up on my piggies and see what there was to do in Bogo.  I've heard there's a large expat community there but I guess I was looking in the wrong place.  After leaving the farm and securing an 'ok' room in downtown Bogo, a female companion and I went for a stroll to get something to eat and later did some karaoke over at the pier.  Now, in order to get to Bogo and have time for the farm I had to get up at 4:30am that day.  That's tough enough for a night-owl like me, but it was further exacerbated by the fact that I didn't go to bed until 3:30am.
So, that gave me about an hour's worth of sleep before I took a quick shower, packed my stuff, gulped down some oatmeal and coffee to then jump on the back of a motorcycle at 5:30am for a bumpy ride to the pier, on the island of Bohol.  I slept a bit more during the 2-hour ferry ride to Cebu where I then caught a ride to Bogo after some bbq chicken for a post-breakfast snack.  (I do love that bbq, any time of day.)  It was about another 2 hour drive up the coast of Cebu to Bogo and then another 20 minutes or so to the piggy farm.
So.. there I was.  At the pier in Bogo at a karaoke place on a meager amount of sleep at around 9pm trying to sing 'Sweet Caroline' after the vitamin B tablets had long worn off in giving me any boost to keep me going.  The beer wasn't helping either.  I was toast.  My ladyfriend and I retired to the hotel and got some sleep, eventually.  The next morning I got my first clue it was going to be a rough day.  My throat was scratchy.. I'd caught the cold/flu she'd just gotten over.  Oh well, these things happen and besides.. totally worth it.  On the positive side, I did sleep well for about 8 hours which is more than I usually get.
I stopped along the way back to Cebu to shoot some video of a huge statue of the Virgin Mary atop a giant hill.  I was reminded how out of shape I am as I climbed the 100 steps or more to reach the top.. with a full bladder.  By the time I reached the top I not only got some pretty nice footage and photos but.. now I really, really had to go pee.  Normally I'd just find a bush and do my business.  But when you have a giant Virgin Mary statue looming right over your shoulder it seems best to just hold it in.  So I made my way down the cement steps again thinking I'd do the respectable thing and pee at the bottom of the hill, near the road.  But half-way down those steps as my bladder bounced with each step.. I just couldn't take it anymore and with her looking on disapprovingly from above and behind me.. I stopped and found relief along the path.  I figured, "She's a nice woman.. she'll understand.", and I made my way back to the road.
The drive along the coast is very pretty.  Lots of trees to the right and the blue ocean constantly peeking in from the left.  Small province towns along the way and vendors along the road selling everything from fruits to roasted nuts and handmade crafts.  It was a great drive but.. I could feel it, this cold/flu thing was invading my head, throat and lungs.  With each mile I could feel the life draining out of me.  Life sucks when you're sick.  My eyes got all dry and itchy.. this was really starting to suck bad.
Now, a few days before this trip I'd made plans to meet with another one of my readers of the blog here.  I figured I'd be back from Bogo around 5pm and could meet up with him either at Ayala or SM mall for a beer.  He was already in Cebu and I had his number saved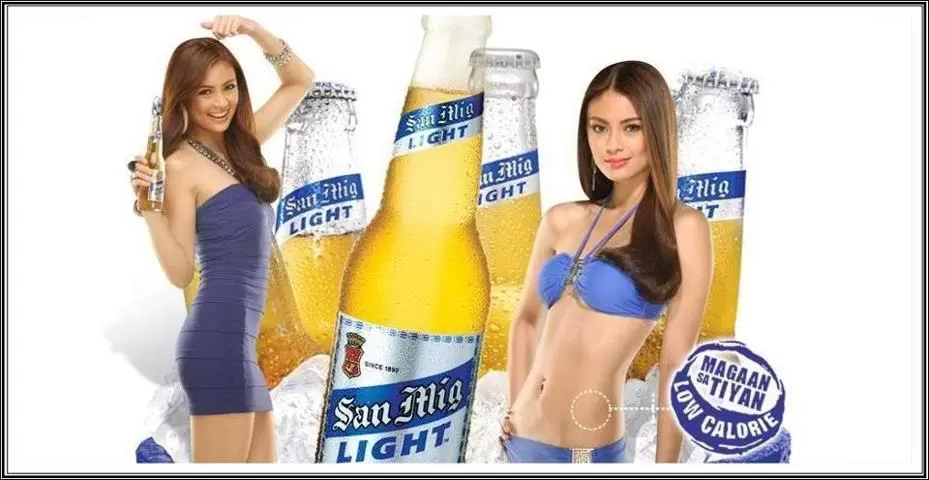 in my phone.  I finally got to Cebu and found myself at sundown in the Fuente Circle area after starting in the Mango Square area.  I normally stay at the Mercedes hotel, out by Pier 1, but I was open to the idea of a cheap room near Mango Square where this reader, George, and I could see what was going on as the clubs opened up that night.  Maybe grab a few SMLs and talk while the pretty girls pass by.  Having a place in walking distance made the most sense.  He already had a long-term room at one of the bigger hotels in the same area but all I needed was a place to lay my head for one night.
So I texted him and.. the text wouldn't go through.  After several tries I finally figured I must have entered the number in wrong.  So I went to an internet cafe, logged into my email to double-check the number and.. no, I had it right.  But my texts weren't go through and neither were any voice calls.  I tried some various prefixes like +63 but nothing worked.  Around 8pm I got a text from him but when I tried to reply.. still wouldn't go through.  This was really getting frustrating.  I was sick, I had walked about 3 miles downtown and now I've got this tech issue with the texts not going through.  Things were not looking good.  The evening of a few beers with a new friend and checking out the local girls was beginning to fade away quickly as I found a place to sit in the mall and give my tired feet a break.
As my thoughts became more muddled from the nasal congestion and headache, I analysed the situation.  No communications possible with George, so that meeting up with him seems like it wasn't gonna happen.  So, scratch that plan.  On to a new Plan B.  Since I didn't find a room I cared for in this area of downtown, best to jump on a jeepney and get some dinner over at Ayala Mall.  The cool air-con would do me some good.  So off I went to Ayala where I enjoyed a slow, leisurely meal with some comfort food from Pizza Hut.
I decided that since I'd be catching the ferry the next afternoon from Pier 1, it made sense to find a room near there since I would most likely be feeling even more sick in the morning.  So I tried to exit the mall to get to the jeepney terminal and.. wouldn't you know it; that particular exit was under construction.  So I had to drag my tired, sick self around the mall and back to get to the terminal.  I couldn't find a jeepney that specifically said "Pier 1" so I asked around and they told me to catch the ride to the SM mall and just rap on the roof when I was ready to get off at the Pier in Cebu.
So there I am, bouncing along in the back of a jeepney just wishing for a nice room and some meds as we rambled on into the night.  I started to doze off and suddenly I heard people yelling and pointing at me.  Apparently we'd reached the Pier and the people who I'd asked had to remind the driver to stop so I could get off.  That was nice of them since otherwise I'd have ended up at the mall instead of the pier.  Things were looking up.  Sort of.
It was now around 9:30pm as I stepped off the jeepney at the park near Fort Pedro.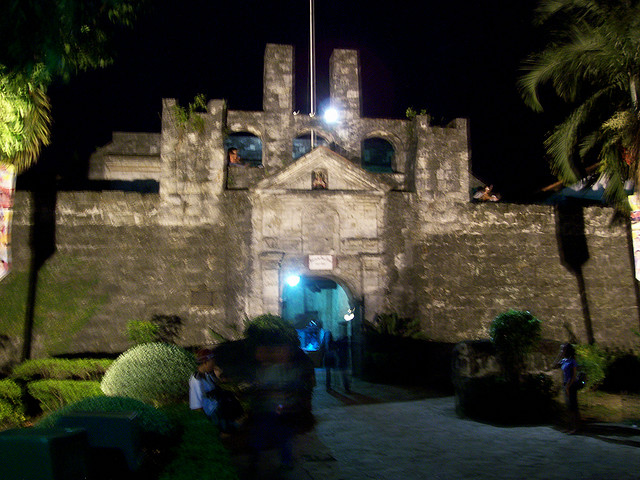 That's sort of the "lover's hangout" for the local kids.  Supposedly a hangout for ladyboys as well but the place was pretty much empty for blocks around on this Thursday night.  I got my bearings and began my walk to the Mercedes Hotel, which is about six or seven blocks from the park.  I'd walked that stretch before in both the day and night-time.  Tonight seemed no different.  So I hoofed it on through the dimly lit streets which skirt just along the edge of the Carbon Market area.
Now, as I've mentioned before here on the blog.. the Carbon Market is no place to be after the sun goes down.  It's a pretty dark and desperate portion of the city that is only questionably safe during the day and definitely no-muy-bueno after the sun goes down.  If you've ever been around the garment district in LA or Skid Row after dark.. that's what the Carbon Market is after dark.  People sleeping on the cement.  Others shuffling around with questionable intentions.  Scantily clad skinny girls who look like they haven't slept in days.  Not a good place to be.
But where I had to walk was on just the outskirts of all this.  It's kinda-sorta lit along the way and the brightly lit main street is in view only five blocks up the street with the promise that 'normal' city life was always just within reach.  So I strapped on my backpack, summoned up my strength, wiped my nose and began the trek to find a room for the night.
I got within two blocks of the main street, still in the sketchy area and I saw a sign for a room and figured I'd check it out since it was so close the the main drag.  I asked to see the room first and it was basically, a room.  Four walls, a bathroom and a bed.  It wasn't the Mercedes Hotel, but I figured it would do.  It had air-con and it's own bathroom.  Many of these places you only get a fan and the bathroom is shared, down the hall.  I figured it would do the trick for a night's sleep and I got the room.  On a piece of cardboard above the scratched up glass where the clerk took payment it read; NO REFUNDS.  Hmm.
So I take my key and get into my room.  Compared to outside the room seemed cooler in temperature.  But between my growing fever, congestion and tiredness it seemed the longer I stayed in the room the warmer it got.  But.. like my Mom always says, "It could always be worse so, be thankful."  I figured I'd make the most of it with a refreshing shower and then go to the nearest pharmacy for some cold/flu meds.  I went to the bathroom (which I'd failed to check during my initial inspection) and turned on the water.  After a few moments.. water began to slowly trickle out.  "Oh.. hell, no.", was all I could say out loud.  At the rate it was dripping out it would take about 30 minutes for it to fill up a soda bottle.  Well, that sucked.  I put a pail under the trickle and figured I'd at least get enough water to wash my face by the time I returned from the pharmacy to finally get some sleep.
Leaving my backpack in the room, I locked up and went down the two flights of stairs back to the gray pavement that awaited me.  I knew there was a Rose Pharmacy just two blocks away and began walking there.  As usual, sketchy characters lurking about with nowhere to go.  Life had dealt them a bad hand and it led to them hanging out in this sultry, moist air with nothing much more than sheer desperation to keep them going.  "Well.. I can't fix the entire world's problems.", I told myself.  And besides, this was no place to be seen handing out free cash.
So I made my way to the pharmacy, which fortunately was still open since the other ones I'd passed earlier had already closed down for the day.  I got a blister pack of BioFlu and a bottle of water which I then took soon as I got done paying for it.  I was already in the well-lit 'safer' area of downtown so I walked around a bit.  I was running on fumes but still doing okay.  But not okay enough to even entertain the idea of going to the bikini bar for a beer.  I stopped to look at some bootleg DVDs just out of sheer boredom and before I knew it, the vendors there recognized me from last month and all came to greet me.  Two of them were 15 year old girls working during their school break.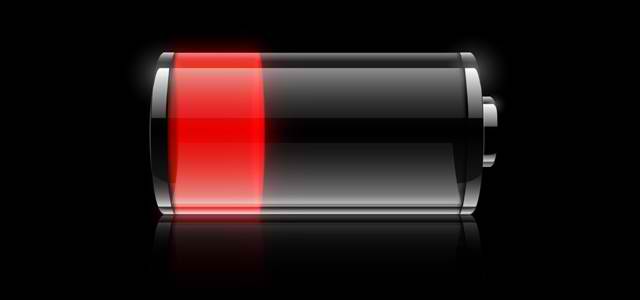 I checked my phone to see if that George guy had texted again and noticed my battery was pretty much empty and ready to shut down.  I asked if they had a charger and for 20 pesos they let me charge my phone while I sat in a chair checking out the collection of DVDs.  The ladyboy went back to work while the two girls and the gay kid began asking me about where I was from, was I married, why not.. the usual battery of questions I get when meeting new people in the Philippines.   They were all very nice though.  They even remembered from my last visit that I lived in Bohol and asked me what it was like living there.
But I could feel my energy waning and after 20 minutes I figured my phone was charged enough for the night.  The room I rented only had one outlet and I didn't feel like turning off the alarm clock by climbing the bed to reach the phone charging up behind the roof-mounted television with crappy reception.  I thanked them for their help and shuffled myself the two blocks back to my room.
It was on the way back that I began to think to myself.  I'd really picked out a crappy room.  As sick as I was I knew I'd be feeling even worse in the morning and not being able to take a shower until after doing a 2-hour ride on a ferry followed by a long walk through the jungle road just wasn't a pleasant idea.  I really needed a room with a working shower.  I figured I'd have to kiss that money goodbye and just go for a room at the Mercedes Hotel like I usually do.  I figured I'd just grab my backpack, remember to get the money I'd hidden in the room and leave.
As I got within half a block to my room some wild-eyed, 20 year old, cranked-up street girl ran up in front of me.  She did her best to sell me on the idea of some sex or a massage.   I just kept on walking as she buzzed around me.  If she wasn't on crack.. she was on something and I wanted no part of it.  I made my way up the stairs and she stopped following me.  I grabbed my backpack, hidden money, double-checked I'd not forgotten anything and dropped off the key at the clerk's desk near the top of the stairs.  "You returning tonight, Sir?", he asked.  "No.", and with that I went down the stairs again leading to the street.
I almost got to the corner, and no sight of the crazy girl.  But I did notice that three Filipino men in their 20's suddenly decided as I passed by to walk along-side me.  I kept on walking.  To my right was the building.  To my left was a metal fence about mid-waist high.  I didn't have any option to suddenly change course, I was stuck in this sidewalk with these three guys walking shoulder to shoulder next to me on either side with one right behind me.  I knew this did not bode well.
I began to feel an irregular tugging on my backpack, which I had slung one strap over my left shoulder.  I began to turn to my left and the man on my left is smiling as he has his hand resting on the strap and my shoulder.  If there's one thing I cannot stand, it is when someone touches me without my permission.  Anyone who knows me from my younger years knows.. I only touch or hug people I'm okay with.  Other than accidental bumping in crowds.. I begin to go kinda ape-sh*t inside when someone touches me that I don't know.
So, there he is with his hand on my shoulder and backpack strap and we're looking at each other eye-to-eye as I'm still walking.  In a very stern voice I told him, "What!?!  You need to remove your hand, right now."  And then all hell broke loose.
I turned further to my left and now I could see that the man behind me was trying to open my backpack zippers.  I began to pull away from him when I felt another man reaching in and out of my pocket with my wallet in his hand.  At this point I stopped walking and as the guy on my left was pulling the backpack from me I looped my arm into it and began to wrestle with the guy on my right for my wallet.  After a few seconds the wallet fell to the cement and I quickly got it back and turned to my left.  But as soon as I did, the guy on my left snatched it away from me again.  I got my hand on it again but by now he'd pulled away my back pack and it was lying on the cement behind him.  I kept glancing to my right to keep an eye on the the two others as I faced off with the one who now had my wallet.
In these few seconds as everything transpired, I can honestly say I was far too angry, tired and pissed off to feel afraid.  These people were robbing me.  Nothing more complicated than that.  They had invaded my personal space and I was not going to leave without some form of satisfaction.  In my mind went so many thoughts so quickly.  My goal:  Avoid injury.  Disable attackers.  Leave.  That flashed in my head without effort.  I instantly recalled from years ago my tae kwon do instructor telling me, "What we do is for competition.  In a street fight, it's not a long fight.  The only way to stop the fight is either run away or disable your attacker quickly.  Competition, we have rules.  In street fight, you are not bound by rules."  It was like my mind was racing and everything was moving in very slow motion.  It was a very strange moment to have so much flooding my mind in those few nano-seconds of activity.
I expected one or both of the two others to either jump on my back or stab me from behind.  I knew if I got superficially stabbed my adrenaline and shock would get me through about 2 minutes of fight-time, barring a mortal wound.  The man and I were in a deadlock for my wallet and I didn't have much time before the other two jumped in.  I looked at our body positioning and instantly I saw my clear shot.  With no obstructions I pulled my right leg back and kicked upward right between his legs and clocked him square in the balls.  He never saw it coming.  I kicked him so hard his back end went up.. he let go of the wallet instantly and before he could even grab his balls he fell face first into the pavement.
One thing about landing a punch or kick.. never assume it's over, always follow up.   I side-stepped to the left so he couldn't grab my ankles and where I'd have a clear shot at his head or a side-shot to the other two guys on my right.  I had nobody on my left-side since the fence was there.  But I looked for motion and from what I can tell, he must have knocked himself out on the pavement.  Normally he'd be either curling up into a fetal position after a hit like that or rolling and groaning.  But he wasn't moving and not a sound was coming out of him.  Apparently, reflecting on it later, I'm guessing he was the leader because when he went instantly from wrestling with me to down and unconscious.. the other two backed off immediately.  Holding my wallet in my right hand and grabbing my backpack off the cement with my left hand I stepped away about five paces and turned around so they couldn't attack me from behind again.  The other two just stood there and as it became clear they were still confused about what happened to their cohort, I yelled at them loudly;  "You F*ckers!".  I was so pissed off and worked up I was actually wanting the other two to come at me.  When I saw they began to check out what damage the other one had I took that opportunity to begin sprinting up the street to the bright lights two blocks away.  Just before the final corner I reached an armed guard outside some business and, gasping for air as I spoke I told him as I passed by.. pointing behind me,  "Three guys just tried to rob me.. those f*ckers!" and I kept going.
I kept looking back to see if the other two would try to find where I went, but no sign of them anywhere along the street from there to where I was, near the pharmacy.  I quickly made my way another block around the corner to the Mercedes Hotel, walked past the guard at the door and immediately got a room from the clerk.  Alfredo, the 60 year old bellhop I see every time I stay there, led me to my room and set up the t.v. for me like he always does.  I tipped him and as he left I made sure to use the deadbolt on the door along with the doorlock.  I was sweaty, congested, full of adrenaline and paced around with excess energy as I tried to wrap my mind around what just happened only minutes ago.
Here I was in a neat, clean hotel room with cable t.v., a real bathroom with real hot and cold water, a bed with fresh linen and as I looked out from the sixth floor window down into the dark alleys of downtown below I knew I was lucky to be alive.  Had they been armed I'd be lying there down in that darkness hoping I somehow got to a hospital in time.  I've had several close calls in my life before, but not for a good fifteen years or so.  But now, this.  Well, this put my crappy day of inconveniences back into perspective.  I was alive!  I was still standing.  I peeled off my shirt and checked for injuries.  Not even a scratch or bruise.  This could have gone extremely bad.  And yet, here I was.. alive and ready for a much needed shower.
I took a hot shower for the longest time.  I just kept closing my eyes and tried to get refocused on something else.  Little by little I calmed down, dried off and got into some comfortable clothes to see what was on t.v.  I was too hyped to sleep still.  I spent about an hour distracting myself with the Discovery channel.  Some show about a guy who travels the world taking on food-dares.  In one clip he's eating the world's hottest pepper.  In another he's preparing his own blowfish meal which if done incorrectly would kill him from eating the fish's poison.  I actually caught myself thinking, "Wow.. that guy's crazy."
Well, this is the part where you get to tell me I had it coming for being out late at night.  It's not like I had no clue this might happen.  I simply chose to push the odds and on this night, the odds pushed back.  But I'm not completely insane.  Next time I need to get from the pier to the Mercedes I will most likely take a cab.  I may not recognize them but they might recognize me and want some payback.  Much better to get some curbside service straight to the hotel.
But just to put things into perspective.. I grew up in Perris, CA.  Try going to the Perris Walmart at night and tell me that's safe.  I lived in Hemet, CA.. try walking past the empty Walmart parking lot there after dark.   When I told a friend of mine here what had happened, she said that she'd been robbed in that same area years ago.. but in broad daylight at knife-point.  In broad daylight.  With crowds of people walking only a few feet away from where she'd been pulled into an alley.  People get carjacked, in first-world countries right there in the mall parking lot during business hours.  Murrieta, CA.. once voted the 2nd Safest City on the West Coast only 7 years ago.. now has had several reports of men attempting to abduct young girls off the street and a drug manufacturing issue to deal with.
My point being.. those 3% who commit the majority of crimes, they are in any city with people in it.  Yes, walking the street at 10:30pm is not a smart idea.. but walking that same street at noon is no guarantee you'll have a crime-free day either.  Sometimes crime literally comes right to your doorstep, into your home through a locked window as you do the dishes or watch t.v.  Life itself comes with risk.  We risk life or death every time we drive down the road hoping the oncoming driver isn't either drunk or texting at the wheel.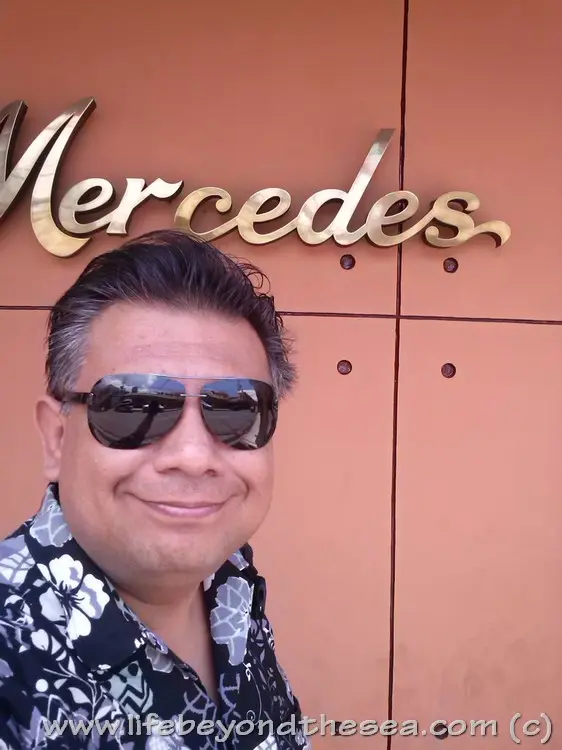 I'll try to manage my risk quota a bit more proactively, but simply remaining in the Philippines will probably be considered a crazy idea to some people.  There's crime in my old home-town, there's crime here.  Desperate people do desperate things.. no matter what country they're in.  I love the Philippines.  And a few bad apples have not swayed my plans at all.  We can't judge the entire US simply by the desperation that infests Los Angeles Boulevard after dark.  By and large.. the Philippines is a wonderful place to be.  And I intend to see more of it.
Henry "Reekay" V.
www.lifebeyondthesea.com
About Me.. In 2011 I made the decision to move to the Philippines within a year. Since 2012 I've been traveling through various islands of the Philippines as a full-time Expat. (Mactan, Bohol, Panglao, Moalboal, Dumaguete, Bacong, Boracay, Cebu) I recently spent the year living in Ho Chi Minh City, Vietnam.
Share with me here my ongoing adventures of life in the Philippines. Dating, vlogging, cooking, traveling and sharing the information with you needed to make your own plans for living as a full-time expat in Southeast Asia.
— Reekay