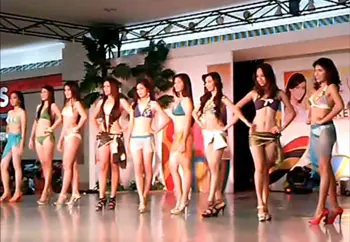 So there I was.. just minding my own business at theICM mall in Tagbilaran, Bohol.. I'd been doing about the most mundane thing you could think of; buying groceries.  I had just left the checkout stand and when I turned the corner what should I see before me but more beautiful Filipinas in bikinis and heels than I could focus on.

Naturally, I dropped my groceries right there and got out my video to share the goodness with you.  I guess I had just caught the very end of the contest and this clip here is their final flourish before the judges.  The mall was packed and these lovely ladies were stopping all traffic.  And yes.. these are real ladies.  It was a nice little surprise to run across.  Here in the Philippines the malls really are the agora that people flock to for both their needs and as a common place for such events.  Other times it may be a children's singing contest, modeling shows or Zumba workouts.  But today.. it was what they refer to here as "Vitamins for the eyes".  
ICM mall is, that I know of at this writing, about the biggest mall on Bohol.  I'll have to check out more of the island but from what I've seen downtown, the BQ Mall is smaller and not as upscale as the ICM.  ICM has a decent showing of American franchises including KFC and Pizza Hut.  What I really like is that any movie, any time, at the theater is only 100 pesos.  (about $2.25)  I've been catching more new movies since arriving here than ever before back in the States.  (Just watched 'Iron Man 3' a few days ago.)  
Even when there isn't a beauty contest going on up on the stage.. on any given day at the malls here it's just a constant parade of lovely, young Filipinas.  It makes the 1 and a half mile walk out of the jungle so worthwhile.  
Henry "Reekay" V.
www.lifebeyondthesea.com
About Me.. In 2011 I made the decision to move to the Philippines within a year. Since 2012 I've been traveling through various islands of the Philippines as a full-time Expat. (Mactan, Bohol, Panglao, Moalboal, Dumaguete, Bacong, Boracay, Cebu) I recently spent the year living in Ho Chi Minh City, Vietnam.
Share with me here my ongoing adventures of life in the Philippines. Dating, vlogging, cooking, traveling and sharing the information with you needed to make your own plans for living as a full-time expat in Southeast Asia.
— Reekay