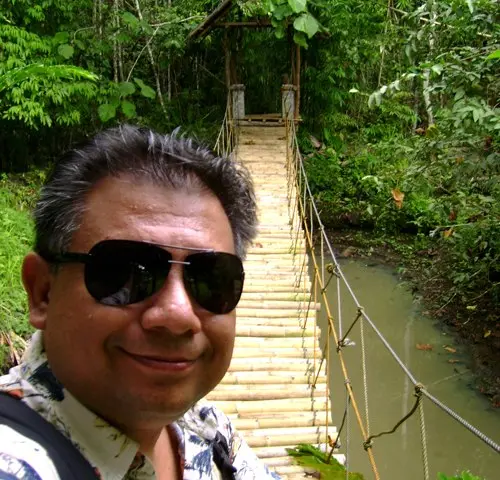 Month of AUGUST – 2013  This is one page per month devoted to the more personal experiences related to my life in the Philippines.  I'll toss in some photos & video links as needed for emphasis so.. no telling what you'll encounter here.
—  Henry 'Reekay' V.
Oh, subscribe using the E-mail box along the right-side of the site to know when I update with a new entry.  Many of the photos here enlarge if you click on them. 
(in reverse chronological order.. that means, most recent stuff is here on top.
[08/31/2013] —   Well, here it is the beginning of September and I'm just now tapping out my diary for August.  That's been the kind of month it's been.   Busy, but a good busy.  I know it might seem at times I just swing in the hammock by day and roam the streets at night but lately I've actually been getting some stuff done behind the scenes.
Most notably I've been kinda MIA from here largely due to working feverishly on the official LifeBeyondTheSea Youtube Channel.  For those of you who did mosey on over there you've been able to keep up with my latest adventures including my recent Scooter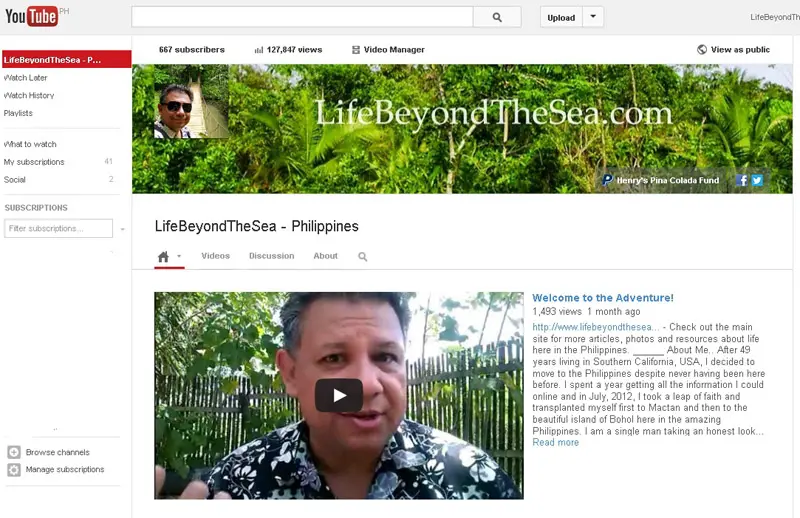 purchase and attempting to hack open a coconut with my brand new Sundang.  The channel is finally starting to get some traction and getting shared on Facebook thanks to so many of you who have tuned in.  Thanks so much for that!  🙂
I also whittled down the inventory on MyLovelyFilipinaGifts store.  I'm keeping things simple and besides, it's one thing to send a girl some phone load or a teddy bear and chocolates.. but I figured it was best to not carry laptops or televisions.   Plenty of time for that after the wedding.  
As if that weren't enough, I've begun dating a new Filipina that I met by sheer providence one night as I was out looking for phone load at 10pm.  She owns a small restaurant/sari-sari along the road and, well.. I just had to return and try the food.   She's very responsible, sweet and kind and.. it's a bit early as I only met her 2 weeks ago to know anything for sure.  I told her I don't plan on making any relationship decisions for another 6 months and she's totally okay with that.  So, we'll see how that goes.  But for now it's nice to know I've got someone local to enjoy a movie or lunch with when I'm not tapping away on my laptop in the province.
But I'd say that lately the biggest thing that's happened is a whole paradigm shift in my life here.  It's now been 13 months since I arrived and I'm really loving the experience of calling the Philippines my new home.  I'm learning the local streets little by little with my scooter so getting around has been much easier.   In fact, things have been looking so good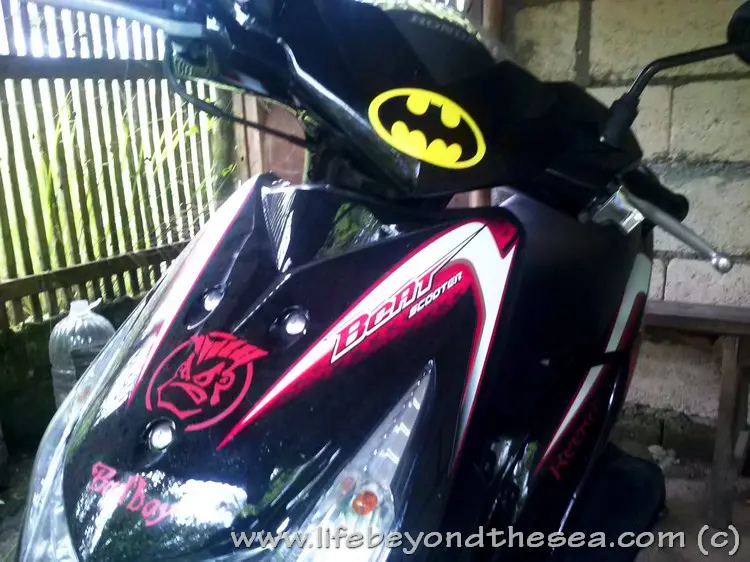 for me here that it kinda scares me.  I'm accustomed to some major tragedy hitting me when things seem to be going too good for very long.  But I'm open to the idea of perhaps things are finally coming together for me on so many levels.
When I was younger and single, my chief focus was 'getting re-married'.  I wanted to find a wife and regain that identity I'd had as a husband.  That was all good and everything but my experience being single at that time was one of feeling "less than" for not having a mate.  Being single back then seemed almost like a punishment of karma in some way.  But now, it's a whole other experience.. one that I really never imagined existed in reality.
I'm single, I enjoy the projects I do each day and I'm truly in no hurry to get married.   I like walking out of the mall and deciding on a whim whether I'll go home.. or take a ride on my scooter to the pier and just 'hang out' near the ocean just for the hell of it until I'm good and ready to find me some late-night bbq and roll back into my bed when I feel like it.   I like waking up in the morning, telling myself that after a shower I'm going to make some breakfast and then study up on marketing.  But then, by the time I get outta the shower I decide instead to get breakfast at some small place in town and go explore a new part of the island or go for a swim at one of the local hotels for the day.  I just toss my swimming trunks and a towel into my backpack and I'm off with a few pesos in my pocket for incidentals.
Friday afternoon the new girl I met (Jovan) asked if I'd go with her to a local disco club at the Tropics Hotel with her two friends.  I thought about it for a nanosecond and said, "Sure, just show me where it is."  We arrived around 10pm and I gotta tell you.. had I not felt so comfortable with this sort of thing by now it would have been surreal.  The hotel grounds were beautiful.  A swimming pool lit up where we took a few photos before we made our way to the very large gazebo shaped bar overlooking the harbor with the stars overhead.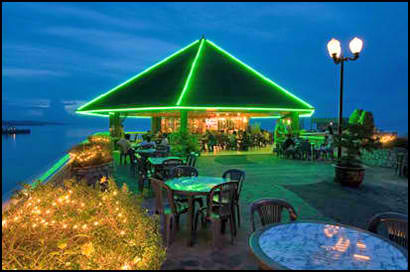 A very pretty lounge singer was singing some 80's tunes onstage.  And there I am.. with three lovely women.. one of whom (Jovan)  is very sweet on me, so all my attention was on her.
We enjoyed the music and drinks for awhile then went to the dance club where we enjoyed both a live band and some kickass dance music by the DJ.  After several hours I escorted my date to her motorcycle and we each went our separate ways.  I know, not the ending you might have anticipated but.. that's how good life is right now.  I had a fantastic time and am beyond content with my station in life.   
I think the only way I can describe it is that it's like having an all day pass at your favorite buffet that carries all your favorite foods and deserts.  There are no lines, there is no rush.  When you are surrounded by abundance there is no need to rush, push, shove or get anxious over anything.. there's plenty any time you want it.  That's how I feel.  Like that famous verse, "My cup runneth over.", yah.. it's like that.
My senses could not be any more fulfilled.  I enjoy my meals, I enjoy the company I keep, I enjoy my quiet time in the jungle, I enjoy my freedom.. for the first time in a long time I'm enjoying every aspect of every minute in my life.  
As I was riding home last night through the evening air with the shining stars overhead I was trying to think back to the last time I was this happy with so much of my life.  I've had many happy periods in my life.  You might even say I've had an extremely blessed life despite the many painful traumas I've inflicted on myself.  As I thought about it more and more.. asking myself, "when was the last time I was this happy?", finally it came to me.
It was when I was about 7 years old.  I remember that day so clearly like it was ten minutes ago.  I was at my Grandmother's house in Stanton, California and it was one of those perfect days where the weather and blue skies are like a gift from above.  I walked out to the shade of a tree on the lawn and stretched out on my back looking up at the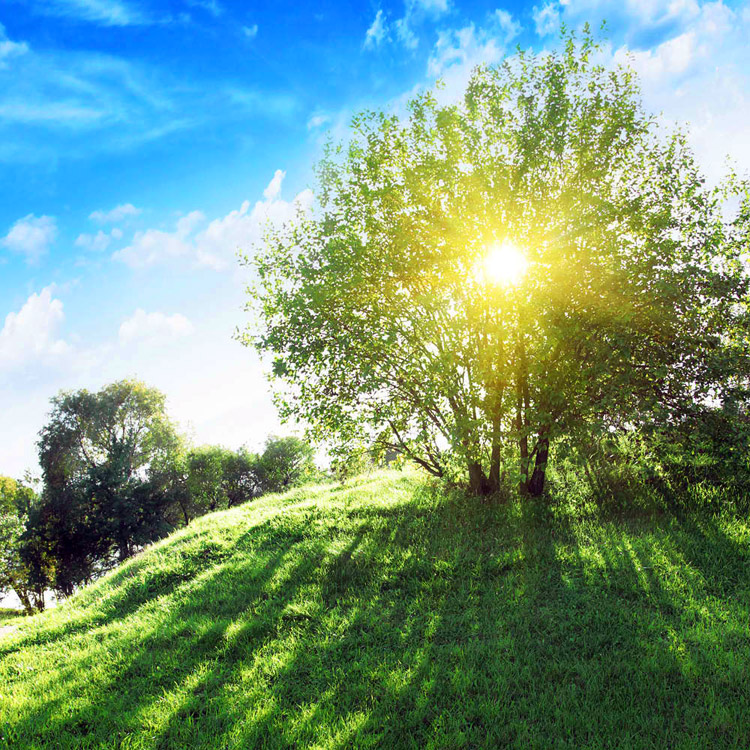 bluest sky I'd ever seen through the freshest layers of green leaves that dangled lazily about in the mild breeze.  Every so often the sun would poke through briefly like the shining star that it is between the branches.  And I remember laying there, with the soft grass underneath me, the limitless sky above me and I just soaked it in.  I absorbed every minute detail into my brain and memorized that moment because somehow I knew that moments like that don't come along often.
I've waited and kept my eyes open for that sort of feeling for 43 years since that moment.   And now.. it's back.  And I'm absorbing every single piece of it to remember for my last day.  It feels good to be happy again.
Henry 'Reekay' V.
www.lifebeyondthesea.com

Since 2012 I've been traveling through various islands of the Philippines as a full-time Expat and spent 1999 living in Vietnam.
Share with me my ongoing adventures of life in the Philippines. Hopefully you find my observations helpful in your own adventures.
— Reekay