So.. let's say your plan is to come to the Philippines, get to know some lovely ladies and choose the best one to be your wife.  Fantastic!  However, there are a few things to know ahead of time so your experience does not get snagged on a legal issue along the way.  The good news is, if you come prepared you will be fine.
Before we get into deeper waters.. just hear this at the outset.  Take time to know your prospective Filipina fiance'.  I recommend at least 6 months minimum.  Not only get to know her as a person, but her marital status as well.  As you will soon find out, there can be a few hurdles to cross at times.  I have dealt with such hurdles in the past and, when you love someone I believe you'll do whatever it takes to marry the woman you love.  But if you don't think you're up to it, find a Filipina who has never been married before and that will simplify everything.  In either scenario I wish you all the best.
[ One more thing.. the information I am sharing with you here is fully referenced, so use the links provided to fact-check on your own.  I am not an attorney nor am I in any way providing anyone with the most current legal stances in place.  The information here is for educational purposes only and any person should consult with an Immigration Attorney before making any important decisions or actions. ]
You may be coming in from the U.S., Australia, Canada, Great Britain or other areas so I will simply refer to your native homeland as your 'home country'.  (Even though your plans may be to make the Philippines your new home.)   Even if you plan to take a few years before getting married, which is my advice by the way, one thing you will need to bring with you are your divorce papers.  Specifically bring your 'Judgment of Dissolution'.. the final, deciding document which declares you are legally divorced if you have been previously married in your home-country.  It is very common for men to arrive here, start making plans to marry and only then find out from the local Philippine government that you must prove you are divorced from any previous marriages, irregardless of where those marriages took place.
So, if you never did get legally divorced in your home-country but plan on re-marrying in the Philippines that is one loose end you will need to tie up before boarding a plane here.  IF you were previously married but are now widowed, bring with you a copy (preferably an original) of the Certificate of Death as well as any documents from the courthouse on your marriage (Marriage Certificate) showing that the deceased is actually the same person you were previously married to.  Tax records and social security info might be good to have as well in case it is questioned.
One thing you will need to do, here in the Philippines, when you are ready to get married is file for a "Certificate of Legal Capacity to Contract Marriage".  Click the link for more exact info on the process.  The filing fee is (currently) $50.  This is how you will present the Divorce Decree or Certificate of Death in order to prove you are legally free to "contract" marriage.  Marriage here is seen as a legal contract between two people, similar to the way Non-Default states in the U.S. handle divorce cases.   Once you have this it is up to you whether you and your Filipina bride will officiate the wedding via a Priest at a church or at the government offices via a Judge or Judge's Appointee.
"NO DIVORCE?"
One thing to keep in mind is that here in the Philippines you cannot get a divorce.  There is not even a divorce court to hear your case.  The divorce or 'dissolution' process is not legally recognized here.  What they do have is an 'Annulment' process.  But good luck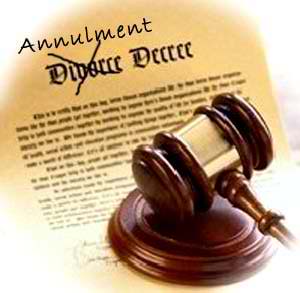 qualifying for that.  To get a legal annulment you must pass a very strict test under which you must prove such a situation as; You and your wife are closely related.  Marriage by Fraud.  Persistent non-Consummation.  One of you was legally insane at the time of marriage.  The marriage was committed under duress.  (Even then if you have been married for more than a year it is considered consensual.)  There are other circumstances for Annulment and they are just as stringent.  For a list of them as well as some other good info.. Click Here.
Now, off the books, some people do get annulments 'under the table' with bribes to the right people.  But if you are a foreigner chances are you don't know 'the right people' and will get ripped off by scammers who promise for a couple thousand in foreign currency they can make it happen.  But the annulment process passes through several hands and if not everybody is on the same page.. your bribe money and chances of getting that annulment go right down the drain.  So.. don't get suckered.
But there is a solution.  If, you as a foreigner come and marry a Filipina and then.. for whatever reason you later decide you want to divorce.. there is a legal way.  You will have to return to your home-country and file for divorce there.  I cannot speak for other countries although I would be surprised if they were not so different about the following.  In order to file a divorce on your Filipina wife, from your home-country.. you will need to (a)  Have her legally 'Served' with the Subpoena for Dissolution of Marriage and (b) before you can even file, you may have to re-establish your Residency in your home-country for perhaps 6 months.  (U.S. is 6 months)   If she is dead-set on staying married to you, for let's say… oh, Social Security benefits.. she may delay the divorce by making herself difficult to find and 'Serve' or she may do a Response in which she disputes jurisdiction or claims 'hardship' in order to be able to attend the divorce proceedings due to travel expenses, etc.  Bottom line, it could really drag out so.. make sure you really, really want to get married.
Most women here are wonderful, but there are a few bad-apples in any bunch.  My two cents is that if you just take your time getting to know your fiance for at least a year you will be in a much better position to make this marriage decision than if you rush into it on a whim after a 2-month romance.  Just throwing that out there.
"WHAT IF I HAVE ALREADY MARRIED A FILIPINA.. AND WANT TO DIVORCE HER SO I CAN MARRY A DIFFERENT FILIPINA?  DOES THE NO-DIVORCE ISSUE LEAVE HER MARRIED TO ME WHILE I'M MARRIED TO MY SECOND WIFE?"
Believe it or not, up until 2005 this had been the Catch-22 scenario for many Filipina women.  Let's say 'Joe' arrives in the year 2000 and marries 'Grace', the Filipina.  Two years later, Joe goes back home and gets a legal divorce on Grace.  He is now free to re-marry.  So, Joe returns to the Philippines to find that the Filipino courts still consider her married to him.. but he is no longer married her.  He marries a second Filipina in 2003 and is now married to one woman.. although two women are married to him in return.
This kept the first Filipina wife from being able to meet and marry 'Bob' after her husband 'Joe' divorced her, because the Filipino government didn't acknowledge her as divorced.  As you can imagine this caused a lot of hardship and heartache for many Filipinas.
Divorced Filipina (from a Foreigner) Can Now Re-Marry
Fortunately.. in 2005 under President Aquino, his Executive Order modified a (then)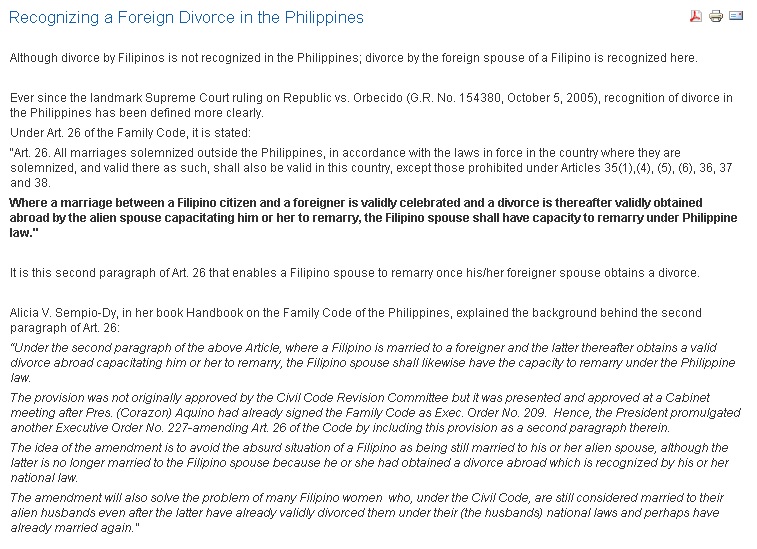 recent revision of the Family Code to include an amendment giving Philippine citizens the right to re-marry when a legal divorce has been recognized by the home-country of the other (foreign) spouse.  This act, only authorized just 7 years ago finally set free Filipina women to re-marry.  Imagine meeting the woman of your dreams only to find out she is still 'legally' married with no ability to divorce?!  Some Filipinas are still unaware of the change in the law and under the impression they cannot re-marry due to a previous marriage to a foreigner.  But.. as long as that previous foreigner has divorced them legally in their own home-country, it now applies for them as well.  For more details and verbiage on this Amendment.. you can View It Here.
"WHAT IF THE WOMAN I WANT TO MARRY IS SEPARATED FROM HER FILIPINO OR FOREIGN HUSBAND?"
Well.. this is where I tell you that life is not always fair.  But.. again, there is possibly a way around it.  If you meet a woman who is 'Separated', and there are a LOT of Filipinas in this situation whose husbands have literally abandoned them to 'shack up' with a mistress on another island.. she cannot on her own get a divorce.
If she is married to a Filipino.. she cannot divorce him because there is no divorce process here.  She will not be legally able to re-marry until the spouse passes away.  If she can get a work visa or other visa to your own home-country it's possible to live together, but if your own country recognizes her Philippine marriage as still valid (most do) then getting re-married in your own home-country would not be legally possible.  If she is married to a foreigner, the foreigner must take the action to divorce her in his home-country.  Once he has divorced her, she is free to re-marry in the Philippines.
But.. here is a suggestion which may be different for each country but I believe is an avenue well worth pursuing.  First, if the Filipina has either her Permanent Residency or Citizenship in the foreigner-husband's home-country.. she can move there and she can file for the divorce against her husband in his home-country.  If she has neither of these statuses, then I would speak with an Immigration Attorney in your home-country for another remedy so that you two can possibly marry OUTSIDE the Philippines.  This is where things get sticky.  Technically, you may find a way via this avenue to become married and be with your bride.. in your home-country, that is a very likely scenario.  But if your plans are to live as married in the Philippines.. THAT is where things get complicated.  The best person to help you navigate those waters, again, would be an Immigration Attorney in your own home-country.
"WHAT IF MY FILIPINA IS 'SEPARATED' AND WE JUST DECIDE TO 'SHACK UP' AS COMMON-LAW AND LEAVE IT AT THAT?"
Now it gets really twisted.  So.. let's say Dwayne falls in love with Mariana the Filipina.  But Mariana's husband abandoned her to live the single life on the other side of town, living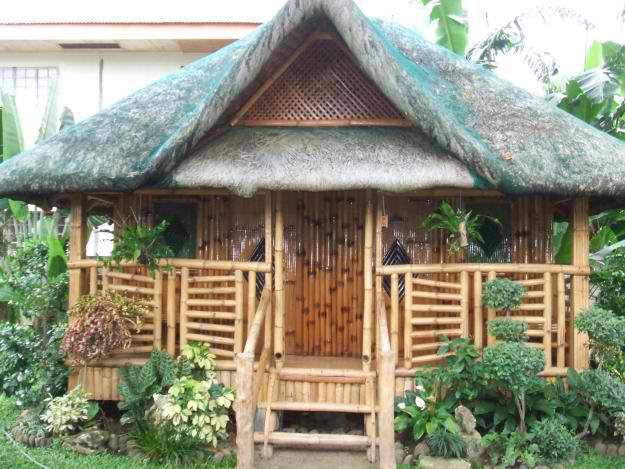 alone.  Dwayne decides to move Mariana into his Philippines home to  just live with and love her as his wife, without hassling the paperwork.  Mariana is now a target to be jailed by her first husband (just out of spite) for committing Adultery.. which just so happens to be illegal in the Philippines.    For more info on the laws affecting this, click HERE.  Not only is it illegal for you to have sexual intercourse with another man's "paper-wife".. but it will be counted as even more aggravated that you lived with her in such a way that was "flagrant" and "indecent" to the public at large.  Yes, language like this still exists on the books here in the Philippines and it can get you as well as your 'Separated' Filipina into a lot of trouble from the 'offended' other spouse.  Especially if this takes place by cohabitation in her home (legally defined as "paramour in the conjugal dwelling") the penalty for her can be a maximum of six years in prison.
Now.. again, there is some good news (kind of).  Only recently, in April of 2012 did the Philippines Congress convene on the issue of clarifying the laws regarding Adultery.  No.. they did not lessen the punishments or remove the Adultery laws.. they made them even more specific and harsh.  That's the bad news.  The 'better' news is that (and this is still unclear if Congress incorporated the following changes to the law or not, no data at this time.).. the 'accused'  (Defendant) spouse can counter and have the charges dropped from the 'accusing' (Prosecuting) spouse IF the 'accusing' spouse either (a) has been committing the same infidelity themselves or (b) has abandoned the home physically and financially for more than 1 year.  If either of those apply, the 'accusing' spouse cannot press charges.  Another thing, ONLY the spouse can file the charges, no meddling 3rd party (neighbors, friends, family) can file Adultery charges.. only the offended spouse.  Again, it is still unclear if these conditions were incorporated into the current changes in the law this year or not.  For a recent article on this recent update of the Adultery laws, Click Here.
"Where there is a will, there is a way."  I am both an optimist and a romantic.  I choose to believe that if two people love each other they can somehow, someway find a way to (legally) be together.. eventually.  It might take some waiting.  It might take some legal action.  But I believe there's always a way if a person gets the right counsel, preferably from an attorney if needed.  In the U.S., one inexpensive way to get unlimited consultation with an Attorney is via the pre-paid method.  For more info on this Click Here.
I wish you all the best in your search for love and romance here in the Philippines.  As I've mentioned so many times at the site, there truly is a cultural difference from Western thinking that encourages, in my opinion, Filipina women to enter into marriage with a far greater commitment.   Most are very loving, humble, faithful and hold to a moral character greater than what most of us 'foreign' men are accustomed to and it can make for a wonderful life in choosing the right one as a wife.
Reekay
www.lifebeyondthesea.com
www.phsurvivalguide.com
Since 2012 I've been traveling through various islands of the Philippines as a full-time Expat and spent 1999 living in Vietnam.
Share with me my ongoing adventures of life in the Philippines. Hopefully you find my observations helpful in your own adventures.
— Reekay