[originally posted Dec. 11, 2013]  –  When I first left my home-country to move to the Philippines, it was all very exciting but there was one thing that weighed on me, internally, that took me almost a year to shake free from.  It was due to a general outlook I've always had about life and my surroundings.  Ever since I was a kid I've had two driving questions that motivate me; "How do things work?" and "Why do people do what they do?"
These two questions have led me into years of personal reading into everything from psychology to biology, history, theology and interviewing anyone willing to answer my questions about their own situations.  The end-goal that I had in mind all during my youth and for five decades all pointed to a clear but unobtainable goal;  To figure out 'Life' and then be able to ease the world's pains and ills by coming to a course of decisions that would 'fix' anyone's problems.  I figured that if I could just nail down the mechanics of life and the self-destructive behaviors we have as humans.. all could be corrected and a more robust path to a happier life could be in the reach of all.
A lofty aspiration, to be sure.  But my curiosity even today still drives me to explore these avenues.  However, along with my decision to move to the Philippines, I spent months before leaving coming to grips with an overwhelming sense of my failure to both myself and humanity in general.  By charting my personal path to the Philippines with the new goal of refreshing my own mind and joy for life, finding the missing set of keys to 'Life' was now taking a distant second-place in my life-long quest.  I truly felt that I was letting down everyone I'd ever known and perhaps even the world in general by setting that quest to the side.  I was throwing in the towel.  I had explored every avenue of science, religion and human experience only to find that there is no single 'answer' or path to deliver to humanity.
While the information and analysis along the years helped me personally in a variety of ways, in the end I had no end-all, be-all solution for everyone in general.  It doesn't exist.  But that is not to say that there are not certain keys to better living, because there are and I consider myself lucky to have stumbled across many of them along the decades.  But as for an announcement to humanity stating; "Do THIS and everything will work out just fine."… it is the holy grail that only exists as a phantom somewhere across the horizon.
This was a life-changing event for me personally.  I'd not really spoken to many of this drive I've had all these years because at best it put me in the realm of some misguided Don Quixote and at worst a delusional optimist with no touch on reality.  Not much of a spread there in either direction really, so I just silently observed, tracked, analyzed and sorted the data over the years as I tried to make sense of it all.
But then I decided to move to the Philippines.  The initial catalyst, as I've mentioned in my earlier articles, was out of a desire to continue a relationship with a Filipina I had met in California.  But the reason it was the right time for me to move was also because I knew I was at the end of my trail with no answer to show for it.  It was time to lay the weight of the world's future back upon the shoulders of Atlas and re-focus my life's energy to that of my own personal enjoyment and fulfillment.  I felt selfish.  It felt wrong for me to do something for myself that was not going to particularly benefit anyone but myself.
I wanted.. no, I needed a 100% change in my paradigm.  My brain felt asleep at the wheel.  I was plodding along without a direction and much worse, without a purpose.  It was time for a change and as things worked out, this Filipina woman I'd met who was actually against the idea of me moving overseas ended up being the first domino to tip that would set a whole new change in my life's course.
Prior to meeting her I had encountered fleeting moments of moving out of my home country.  When I was only 18 it was my original goal to complete 4 years of seminary and then relocate to the jungles of South America.. perhaps run a church or just embed myself into some lost, indigenous tribe and complete my days in anonymity.  I was convinced at the time that I'd have a short lifespan anyhow so the idea of ending my life in the jungle seemed like the most natural course of events for me.
Many years later, around 2008, again the idea of leaving it all behind resurfaced and I spent months considering the idea of getting in my car and simply driving all the way to Acapulco, Mexico.  From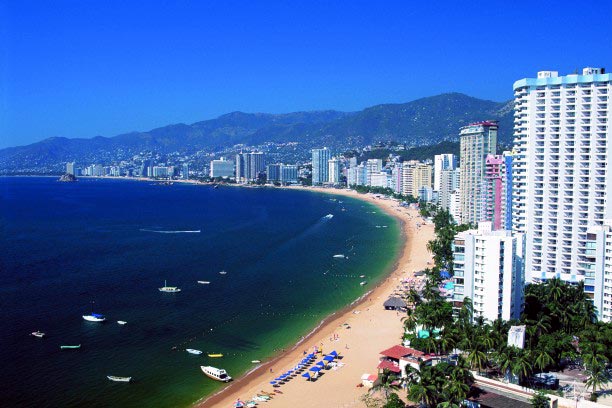 where I lived in Southern California it would be about a 2,200 mile drive (assuming I didn't get lost) and even if my car fell apart when I arrived would take me about 33 hours of driving time to fall upon the sands of Acapulco.  I'd sell all my belongings and between my English/Spanish, tech skills and experience with the public I figured I could land myself some sort of job and start a new life.  Many a night I figured I was only a few moments away from just selling all my stuff on Craigslist and leaving at the end of the weekend for a trek South to a new life.
But the time was not right for such a big change, not yet.  My kids still needed me to some degree although they were quickly finding their own paths as they got into their early 20's.  I had emotional issues that still needed settling from the painful divorce I'd had in 2007 as well.  So I put that plan on the shelf and plowed through so as to complete my obligations.
So, it was several years later in 2010 that I walked into a SoCal Filipino restaurant and little did I know that the right time had come for me to begin discovering a whole other option.  Long story, short.. I began a 2-year relationship with a Filipina in California.  But because she returned to the Philippines, suddenly I was considering actually pulling the trigger and flying to the other side of the planet.  For her, yes.  But not just for her.  This was a long time coming and despite her lack of enthusiasm at me making such a huge change, on July 4th, 2011, I made the decision that within 1 year I would be on a plane bound for the Philippines.  Come what may with the relationship.. it would be my new home.  I spent a year getting my 'ducks in a row' and mid-July of 2012 I boarded a plane bound for Cebu, Philippines.
Not only have I not regretted my decision for even a nano-second, it's been the greatest adventure of my life ever since becoming a parent.  A whole new world literally opened up to me and I've been absorbing it since day-1 that I touched ground on the island of Mactan.
Which brings me to the point of 'finding your own path'.  I have said so many times to so many people, "The Philippines has been fantastic for me.. but it's not for everyone."  I stand by that.  For me, the Philippines awakens all my senses afresh.  My mind is alive and in full gear all over again, just like when I was a kid.  Something new is around every corner.  Food is different.  People are different.  The very air is different.   Is it altogether 'better' than my life in the USA?  In some ways, yes and in some ways, absolutely not.  Going from a 1st-world country into a country that boasts not only some of the most beautiful and accessible topical landscapes, but also no shortage of poverty and distress is a change that not everyone can handle in stride.
I've mentioned before that this is one reason those of us Expats who run into each other on the streets or online in the Philippines have a common sense of respect for each other.  It takes a certain type of adventurous spirit to not only endure the new environs and distance from 'home'.. but to thrive and truly enjoy a whole other culture to the fullest.  That commonality of spirit gives us a certain bond of friendship that has nothing in common with those expats who arrive and simply complain of their plight here.  We distance ourselves from those who made the move, but never accepted the culture of the new surroundings.  We are adventurous and revel in our new surroundings.  'They' arrived only to live in frustration at their own displeasure of inconvenience.  Our only statement to them is, "If you don't like it, leave."
What I have spent many hours in front of a bonfire in the province alone pondering is my resolve to be content in pursuing my own path.  I truly wish I could have found the 'one path' that would make others as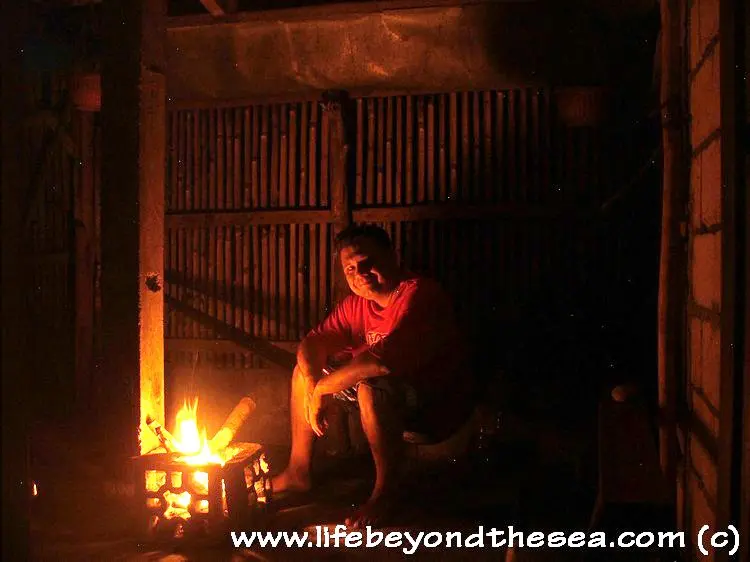 happy as I am with my own life.  But there is no 'one' path.  I see poverty in the USA and I see it in the Philippines.  Despite a few dollars here and there to random people in need I encounter, I have no solution.  I can't sit down for a moment and say to one of the beggars, "Just do 'this' and 'this' and all will be well, my friend."  I have no such solution.  I see sorrowful marriages or relationships and over the years I've tried to offer the best counsel I could to avert or stop the pain involved.  Some people listen, some don't.  Each person has to determine for themselves the path they will take.  I offer to point out a fork in the road; this way leads to more of the same misery.. this other way leads to a freedom from the situation.  That is the best I can do.
Even in my own life, in the Philippines, it's been uncharted territory for me and so I've had to learn a few things the hard way myself.  I've made mistakes along the way.  I've made miscalculations, suffered the consequences and pressed forward to the next day.  I suppose that's Life though.  Nobody else is going to push through my path for me, and really.. I'd just as soon do it myself anyway.  I'll take whatever good advice I can encounter along the way.  But in the end, I have to evaluate my own risks, make my own decisions.. one step at a time I make my way down the path that I choose for myself.
And after many a night stoking the embers of a bonfire, alone in the province that is about the only resolution I have come to.  It is the new mantra that I hear myself saying now that I have been in-country for 16 months and it is this;  "Everyone must find their own path."
I have a dear friend that I care for so much on the island of Mactan.  I want her to have a good future.  She is young and facing so many obstacles.  She's a good person and she presses forward every day.  As a matter of fact, there are quite a few women I know in her situation, some with the added burden of several children without the father around.  I can't be the "white knight" for all of them.  I often find myself wishing I had several lifetimes so as to 'be there' for so many of them.  But that is not reality and whether I like it or not, each one must find their own path.  Along the way, I offer what advice I can.  I don't have the resources to send each one to college or set them up with a job or find them a man who I could guarantee would cherish them as they deserve.  It is a painful resignation of reality that for so many people I cross paths with, each one must find their own path.
I suppose this is the tight-rope that must be navigated in a poor country when you are the 'rich' foreigner transplanted for the duration.  Figuring out when, where and to whom some level of compassion or assistance is to be given to others.  In a land where there is much desperation, there is much abuse of kind-hearted foreigners trying to navigate those waters.  Countless are the expat stories of being lied to and defrauded of money by those who take the deceitful shortcut to survival.  I do what I can to give warnings and how to avoid such situations, but again I'm reminded that each one must find their own path.  Some must learn the hard way that trust cannot be given so quickly.  Discernment as to when and to whom to give compassion or assistance is not something that can be bottled and dispersed like a tonic.  Despite whatever good advice anyone may come across.. time and experience is what it boils down to.
I am happy with the path I've chosen.  I wish I could do more for others but, the reality is I can only do so much.  And maybe that's okay.  Few men ever change the whole world in a positive way.  Perhaps making positive change to the few within our circle of influence is all we can really expect of ourselves.
Henry 'Reekay' V.
www.lifebeyondthesea.com
www.phsurvivalguide.com
Since 2012 I've been traveling through various islands of the Philippines as a full-time Expat and spent 1999 living in Vietnam.
Share with me my ongoing adventures of life in the Philippines. Hopefully you find my observations helpful in your own adventures.
— Reekay