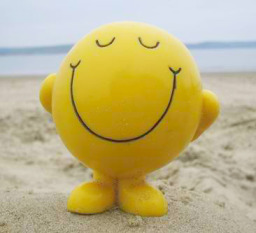 I have mentioned before that, while I'm no Buddhist… I am a minimalist. My comfort level can handle not going to Starbucks every morning or waking up in a 5 bedroom home with a heated pool beside the deck. I'm not against such things and enjoy them on occasion when the opportunity presents itself. I don't fault anyone else for having such things, luxury is good.. so long as you own it and it doesn't own you.
It's now been 9 months I've been living here in the Philippines and.. still loving it! Some of my friends back home said I'd be on a plane back home in six weeks once I encountered the big bugs and humidity. But, nope.. it feels more like home every day. If anything my resolve to spend the rest of my life here is even more firm than when I first arrived. Not that it hasn't presented some challenges along the way, of course. Anyone who has been living here can attest to the fact that life here is not like life back home. But then, if it were, what would the point have been in coming to begin with?
contentmentMy first seven months I spent living on Mactan in the area of Basak, just a few blocks from the Grand Mall at the center of the island. Those first seven months were an experience you only get in a semi-urban area. I imagine living in downtown Cebu is similar but much more amplified so Basak was a good way to 'break in' to the semi-city lifestyle on a small island. I met lots of interesting people. Many of them from small communities not too different from the province area but with a city-ambiance to it that brought more than one not-so-honest face to my door. All part of the learning experience though.
However now I have relocated to the island of Bohol. Ahh.. yes, Bohol. The very mention of the name conjures up locally a nearly pristine tropical island without the urban blight of Manila, Angeles or Cebu. I fell in love with it on my first visit back in December. I was only here 4 hours and I loudly proclaimed to those with me, "I have GOT to live here!" And I meant it. I made a second trip back during Christmas and by January I had secured a plan that would allow me to get myself transplanted here by March. Before I knew it I was clearing mosquitoes out of my new place and getting settled into a one-bedroom home with two fenced yards and double the space I had at my previous studio. In addition I had the entire jungle around me on all sides.. for miles. And miles. Trees. Nothing but endless trees, shrubs, ferns, vines and.. more trees.
Which brings me to the topic at hand; finding one's 'Bliss'. I was content with my previous arrangement and originally saw myself living there for another year prior to seeing how nice Bohol is. I had friends in the area. Shopping was easy with town only three blocks away from my studio. I had a high brick wall around the yard to block out the city noise. There was even a hammock swinging lazily under the mango tree that shaded my entire front yard for anytime I wanted a peaceful respite from my laptop. To me, bliss is simply 'contentment'. Nothing more, nothing less than being happy with the current state of life. I was happy in Mactan and now I wanted to move myself to Bohol. So off I went and it's been great.
Back when I was in the States, I was sitting in a large, downtown pool-hall with a few friends of mine. To be more specific, I was having a drink with a female friend of mine when a certain not-so-favorite acquaintance of ours came through the door and disturbed our bliss. He was one of these Napoleonic, chip-on-the-shoulder, type-A sort of young guys who tend to stink up the place with thinly veiled expressions of how 'awesome' his business ventures are going. As if that weren't enough, he was usually in some semi state of drunkenness no matter what the hour of the day. So, after he attempted to regale us with unsolicited tales of semi-celebrities he'd had a drink with that week and how his life was on the verge of catapulting him into millionaire status with his new energy drink idea he finally took a moment to ask us little people how life was with us. My friend just said, "Busy working, you see me at the office every day." as she reached for a drink from her wine glass and looked away. Turning his attention to me he then asked, "And what about you, Henry? What are you doing to ensure your future happiness in life?"
I finished my cold drink from my Pina Colada, set it down on the table and as I reached for another hot-wing I calmly told him, "I'm already happy now."
You could see the gears in his head come to a complete stop. He fumbled about in his head for a response. One finally came to him after a few moments, "Well.. that's why you'll never succeed in life. You're too content with the way things are." Okay.. he wanted to dance.. fine, I was ready for him. I finished my chicken wing, and as I wiped the not-so-great sauce from my fingers I gave him my detailed reply;
"Well, you're making a conclusion based on definitions which you and I don't see eye to eye on. The first being 'success'. What you call success is hardly what I'm shooting for. I don't need a ton of money to be happy. I'm pretty happy right now just enjoying the afternoon with Araceli here having a few drinks and some good conversation. Secondly, you seem to think 'contentment' involves a lack of ambition. In my reality, being content frees me from pursuing something to working on the ambitious projects which are important to me right now, such as writing and self-publishing. But most importantly, you are chasing for something in the future that you only hope will make you happy and.. until you obtain it, you're missing what's important and happy about the present. As for me, I'm happy right now."
With that I hailed over the absolutely cute, blonde waitress and asked for another Pina Colada. Araceli just gave me one of those smiles. Meanwhile, he sat there, digesting what I said for awhile. He was pretty far along on the drunk scale so the old gears weren't turning as fast as they should be. It wasn't for a while until he finally exclaimed, "You are SO right! I was just kidding you, I totally believe.. that thing what you believe. I was.. I was just testing you!" Araceli and I looked at each other with that bored, "Is he for real?" look and dug through the hot wings with no comment for him from either of us.
Bliss.. being content with your current state of being. It doesn't mean anything apart from the fact that no matter what luxuries you currently have or don't have.. you find joy in the day. Me.. I have the same ambitions I've had for much of my life. I want to continue writing, do some novels and short stories, sell them online. In fact this week I'm announcing a new website I've built specifically for this purpose.. something of a labor of love you might say. Who knows, it might even bring in some beer money over the month. But now, living here in the province of Bohol as I kick back at the end of the day with a small bonfire going to ward off the mosquitoes, the sharp, clear stars and moon overhead with the chorus of crickets in full surround sound.. I have my bliss. I am happy. Is everything the way I want it? No. Will I take measures to improve the things I want changed? Yes.
But in the meanwhile.. right here, right now; I will be happy and content. Bliss is not something we find, it's something we take with us to the places we go.
Henry 'Reekay'
www.lifebeyondthesea.com
Since 2012 I've been traveling through various islands of the Philippines as a full-time Expat and spent 1999 living in Vietnam.
Share with me my ongoing adventures of life in the Philippines. Hopefully you find my observations helpful in your own adventures.
— Reekay