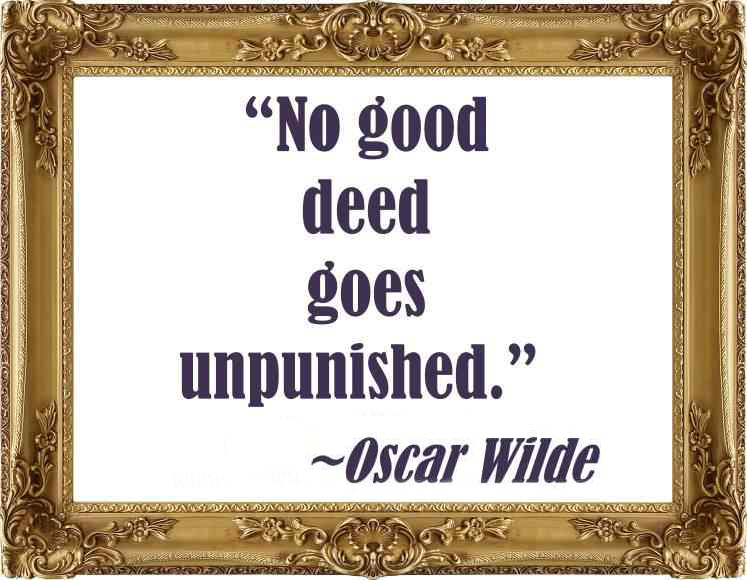 In a recent article I briefly talked about running into people who pretend to befriend you in order to make you their own personal ATM machine.  What I'd like to cover here is a much wider look at this topic.  It's something I've experienced on a much more frequent level here in the Philippines.  But it happens all over the world.  Even in your own home town.  So before we get into this, even though I'll be making mention of recent events here overseas, the general principles apply to all countries, to all people.
There is a saying that I unfortunately have found to hold true over decades of time in my life.  It is, "No good deed ever goes unpunished."  It's not that I don't believe in doing good deeds, I do.  But what I have found is that there is a wide gap between people who are genuinely in need of your assistance who deserve it.. and the people who live life in a constant state of desperation who will con you any way they can to get money to flow from your pocket to theirs.  For this second group of people the ongoing 'con' is how they relate to getting by in life.  It is as natural to them as breathing.  They aren't interested in making their life better.  They are motivated by one thing; 'Getting something for nothing.'  And over the years, they've gotten pretty good at it.
Years ago when my three sons were about 13 years old I took them for a day to Griffith Park Observatory.  But that was just part of what I had planned.  Later for lunch I took them to Hollywood Boulevard in Los Angeles, California.  Now, in the last few years Hollywood has done a bit to improve the area.. but much of it still the same.  Well, back in the mid 90's it was every bit as grungy as it had ever been.  Homeless people everywhere,
middle-aged drag queens, sketchy characters all the way around.  I'd been there plenty of times with buddies and wasn't going to take my boys there after dark.  But a short tour for the afternoon as we got some lunch was a real eye-opener for them at what the 'real world' can become.  After witnessing a bum-fight, my middle-son asked, "Why are those guys fighting?"  My lesson for the day was, "Something you need to remember is this; Desperate people will do desperate things."
Here it is almost 20 years later and nothing has changed.  Desperate people still do desperate things.  It's human nature.  I've seen it in the United States.  I've seen it in Mexico and I've seen it here in the Philippines.  Consider the following statistics taken from a study done ten years ago..

 The Philippines has a lot of wonderful things to offer, especially if you have the money to enjoy them.  Great beaches, resorts, restaurants, romantic getaways, adventure and more.  But the daily reality for many, about 40%, of local Filipinos is a day to day struggle to make ends meet.  Really it's more like 55-65% when you factor in that there is a very narrow 'rich' upper-class and not much of a middle-class as you see in a 1st-world country.  Now, my experience has been that despite poverty, the majority of Filipinos I know are honorable, religious, hard-working people.  Times are tough for them but they don't let hard times compromise their spiritual values for the most part as a society.
But if I had to ball-park a figure.. I'd say there is an element that comprises about 4% of people here (or anywhere else for that matter) who simply are not to be trusted.  These are the ones I want to discuss.  Whether you ever plan to come to the Philippines or not, these shady characters exist in your home town as well.  You might even be related to them.  The difference is that with a larger middle-class you may not cross paths with them quite so often.  But they are out there and you will eventually meet them at a freeway offramp, street-corner, workplace or even knocking at your front door someday.  These people I label as straight out Con Artists.  And they are in every country, every community no matter how rich or how poor or how in-between.. there are con artists looking to separate you from your money.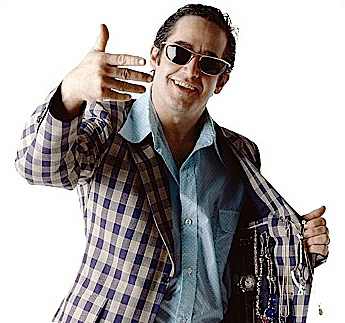 Do you have a mental image of what one looks like?  Well, forget about it.  Because these people excel at camouflage.  The phrase 'con' artist comes from the old description of being a 'Confidence Man'.  Their trade is built upon a very simple strategy.  First.. to gain your trust and second.. to lie to you so as to get your money.  It's the same old game with different locations and different tales.  But no matter what the country, it's the same old con game.  Make no mistake about it.
So.. you're a foreigner in a new country here.  Fresh off the plane with pockets of cash and not a clue where to go, what to do and you could sure use a friendly face to guide you around.  The first thing you gotta realize is that the local con artists spot you right away.  You stick out like a hillbilly at a wine tasting function.  Just like sharks can smell blood in the water these con artists see you coming from a block away, make no mistake about it.  They don't just bump into you or start conversation by chance.  It is the first step into Phase 1 of their strategy.. become your 'friend'.
So who do you trust then?  Well, here's one red-flag to look out for; Never trust someone who INSISTS on taking you down a predetermined path.  When someone says they are your friend, and you've only known them maybe two weeks (or less) and you really know NOTHING about them or their past.  When you know you couldn't locate them if they suddenly disappeared.. your Spidey-sense should be on full alert.
Now.. here in the Philippines it really helps to have people you know you can trust.  And that takes time.  It is possible some people may actually be trying to help you.  Just don't make any assumptions.  In the Philippines, people are very networked and will often use their family connections to genuinely help you out.  If they are genuine, like I said, they won't be insisting you follow them blindly on some course of action.  Let's take an example.  Let's say you meet someone new and decide to have lunch with them one day. During the conversation they bring up something like how great 'island hopping' is now that you're in the Philippines.  You express some general interest but have no immediate plans to go.  Maybe later.  A true friend would just drop it and talk about something else.
But the shady person will insist, you really need to go and they just happen to know a guy with a boat who will give you a big discount if you just charter them for some set 'special' price.  When you say, "Have them send me an email.. I'll shop around a bit and decide later." and their response is to isolate you from shopping around.. to make a decision right then and there.. you know something is up.  I had this scenario actually happen to me once.  One minute I'm just having lunch.. next minute and, whaddya know?.. the guy who does island hopping just happens to be in the mall and joins me at the table to finalize the deal.  It took quite a bit of polite deference to get them to understand I had no intention of making a commitment to go island hopping at that moment.  Maybe later, but all I wanted to do was have some lunch.
Maybe they were just trying to throw some business to their relative.  Okay, that's fine.  But don't start pushing me to commit right then and there or my guard is up in a heartbeat.
And like I said, it's not just strangers you gotta keep an eye out for.  Sometimes it's the family of people you actually can trust.  Maybe your friend is a great guy and totally trustworthy.  But the brother or sister of his, or the maid in the house.. they will steal the shirt off your back in a New York minute.  I know a woman who has had her pursed dipped into so many times.. even in her own home, from unscrupulous relatives and visitors it is unbelievable.  Jewelry disappears from her room as well as cash.  There is a pervasive mentality among the poor that if they perceive you as 'rich'..it's okay to steal from you because, "you can afford it".  That's it, that's all the justification they need to salve their conscience about taking your watch, wallet, money, laptop, cell phone or anything else you didn't keep your eye on while they were in the vicinity.
These people are not so much con artists as they are unrepentant petty thieves. They will honestly steal anything not nailed down.. and if left overnight, even stuff that's nailed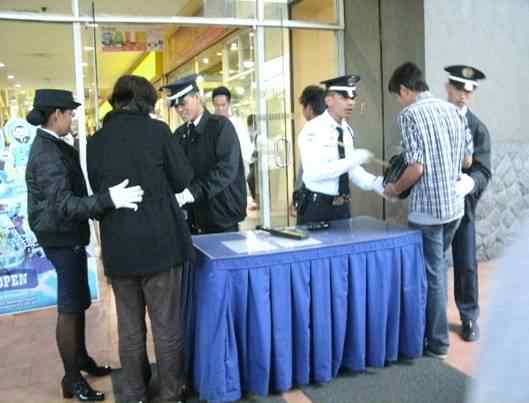 down.  One of the reasons I can walk down main street here in Mactan at 3am is because every legit store down the street is paying for all-night security guards to keep an eye on things all night.  Even in the daytime.. I am not kidding, you will see a security guard at every legit business.  Starbucks, the pharmacy, the mall (every mall has literally a small army of security people.. some of the female ones are kinda hot looking.. but I digress), fast food places, yes.. even the fast food places have security guards.  They aren't worried about armed robbery.  It's the petty thieves they are keeping an eye out for, including the employees.
Desperate people do desperate things.
Now, most of them are like any other thief.. trying to be sneaky and will lie their face off if confronted.  They will swear on all that is holy that it wasn't them and even when caught on video they will say it was someone else.  And when you pull your own watch out of their pocket they will still say that you don't really need it like they do.  You just have to accept the fact that some people are THAT far gone.  They do not have a moral struggle as they ponder whether to take money from your purse or put your cell phone in their pocket.  They do it in the time it takes you to get them a fresh cup of coffee from the kitchen.  They are that predisposed to seizing an opportunity when it comes up.  If you have a hard time believing that.. losing some valuables on an ongoing basis will help you see it a little clearer.
I know one guy who over the years has gone through at least six maids.  All of them started out okay.  All of them fired for stealing from the home.  Another guy, owned a piece of property and hired a guy to be caretaker for it.  Shows up one day asking, "Where's my truck?"  The response from the caretaker, "Oh, I sold it for some money."  No shame, no denial.  Just a "you can afford it" attitude with no pang of guilt crossing his mind or heart.  Another guy, had a pig farm.  According to the caretaker he hired, pigs kept 'disappearing or dying'.  In reality, he found out the caretaker was selling them off whenever he felt like having some extra cash.. which was pretty often.  This is what about 4% of the desperate people do.. they see a chance to take something and they take it.  They might be a contractor, a gardener, a maid, caretaker or family member.
But let's return to the Con, aka the Scam.  Because this is by far the most likely thing you will run into as a foreigner here.  In fact, I would bet dollars to donuts that you will have to deal with it in no more than two months from when you get off the plane.  They come in different forms and as we look at them you'll always see the same pattern; (a)  Establish the trust then (b) take advantage of it.
"The Damsel in Distress Con"
This is by far the most common and most used con that you will ever run into.  I mean, people really should know better.  It occurs in person and it occurs over the internet on dating websites.  And it's rampant for a reason, just look at the math.  A woman working a 10 or 12 hour shift at the mall might make about $12 USD per day.  That's about $60 per week, $240 a month.. give or take depending on what job she has.  Let me tell you how a young woman managed to con four people at once.
My friend, a Filipina who has assets but it not necessarily 'cash rich' although still does well compared to most, was approached by her less fortunate sister.  "My daughter wants to go to college but I cannot afford it, can you help her?".   Now, despite having been repeatedly ripped off many times before, my friend has a kind heart and decided to help her niece.  In exchange for paying for the niece's tuition, the niece would move into her home as a live-in Helper (Maid) to do chores around the house.  Fair enough.
After a while the niece asks to borrow the one laptop in the home.  So my friend lets her.  Soon the niece is monopolising it and my friend buys another laptop to share with her son.  Now the niece has room, board, tuition and her own laptop.  Pretty soon it becomes obvious she's not coming home at a normal hour and is out partying.  She then starts to show up with a new cell phone, new clothes and doesn't even have a paying job.  Soon after it comes out she's not even attending school and isn't around often enough to do any chores around the house.  Words are exchanged but nothing changes for months.
What finally came out is that this girl in her early 20's, the niece, has been convincing three different foreigners on a dating website that each is her "one and only".  After spending some time befriending them and building a rapport.. she went into phase 2 and began with

the fake sob stories of money hardship.. little brother in the hospital, she might have to sell her laptop to buy food, can't pay utilities, lost her job, cell phone got stolen.. the whole nine-yards.  She now has three idiots sucked into her con, EACH of them shelling out anywhere from $250 to $500 a month to her via wired money-grams for an average total of $1,000 USD a month.. and getting free room and board from my friend (her Aunt) on top of that.  That is the equivalent here in the Philippines of pulling in 4 months worth of pay in just 1 month.. without working.
Starting to see how motivated some of these con artists are now?
And this girl is no rocket-scientist.  She's a silly girl with a greedy, lazy heart.  But it's an easy enough con that she learned it from her friends in an afternoon of yapping over lunch.  She's a pretty girl who can easily find a willing sucker on the other end of the Net.  All she has to do is be patient about the timing for when she lowers the 'hardship boom' and her next step is simply collecting the money at the local Western Union.. conveniently located in the mall so she can do some shopping.
Now, as a side-note.. I'm not against online dating sites any more than I'm against  visiting a dance-club.  I'm just saying that these female-predators are lurking in both and whether at a club or a dating site.. you need to keep your wits about you or you'll get gutted like fish.  Speaking of fish, that leads me to..
"The 'Teach Me How To Fish' Con"
This con usually comes from someone who already has established some familiarity.. a relative or acquaintance but every so often can come from even another foreigner, so don't be fooled.  It goes like this;  The con comes to you in a desperate state, things are going bad for them.  And it might even be the truth.  Utilities got shut off, no groceries, etc.  But they don't want any money from you.  No, they wouldn't dare to ask you to bail them out.. no, they don't want any money that's not why they visited you.
You know that saying, "Give a man a fish, you feed him for a day.  Teach a man to fish, you feed him for a lifetime."?   Well, this is a longer-range con set on bigger money, usually
from a relative or friend of the family.  It starts out like this; He has a business idea.  It's a solid plan, too.  I real winner.  It's some food franchise, or a Sari-Sari store.  Maybe an upholstery business or repairing motorcycles.. a sure money-maker and he's all determined to make it happen.  He's got a plan.  He's got the enthusiasm and he just stopped by to share his vision with you.  Thanks for listening, and he's on his way.  "Well, that wasn't so painful.", you think to yourself.  "He didn't even ask me for a single dime."
Every so often you get the text, the call or the visit that the plan is really coming together.  He's got a lease lined up for the upholstery shop.  He's got a guy he can get fabric from real cheap.  He's got mechanics lined up who will refer him some business.  He's even got a loan in process with the bank to fund his dream.  Life is so close to turning around for him and he's sharing all this with you.  Meanwhile, not a damn thing is going on.  There is no lease.  There is no bank loan in process.  But then one day he/she comes to you, dejected and despondent that the bank turned him down.  All is lost and he will be turning to a life of alcohol or drugs soon to deal with his abject sorrow.  He will just slowly die behind a dumpster somewhere now that his dream is dead.
And then.. he turns his sad, puppy-eyed look at you and waits.
It's sad to say but in this world, having a heart of compassion is such a disadvantage in life.  I believe in compassion, but not blind compassion.  I will spend my last peso to help a proven, trustworthy friend in a time of need without hesitation.  But I try my hardest to  differentiate between 'real friends' and 'everyone else'.  Well, as you can imagine.. my friend gave the brother the money.. lots and lots of it to buy their upholstery shop.  Nothing happened.  No jobs were done.  No work was put into it.  He lived off the petty cash intended to start the business and when that ran out.. he began selling off the equipment and inventory a dime on the dollar to any buyer.  What did he care?.. it wasn't purchased with his money.  A few months later.. he was right back where he started.  Only now.. he's really "learned his lesson" and.. he's got a new business plan if you can just give him some 'seed money'.  Yah.  They are that brazen.
"The 'Hello My Friend/You So Handsome' Short Con"
This is something you will absolutely run into if you are at a club or bar with any regularity.  In fact, my 3rd day in the Philippines I got hit up with this scam just taking a walk out near the resorts one night.  It starts out with the same give-away words at high volume, "Heyyy!!  My Friend!", coming from some total stranger dude you have never met in your life.  Even when I was in the U.S., it was one of my pet peeves whenever some salesman would address me as 'my friend'.  Look, I'm just here to shop for some furniture.. I don't know you and you are NOT my friend.  It just gets under my skin.  I know who my friends are and they all know my name, my thoughts, I've shared food with them, been in their home.. but the guy selling used cars that I've seen for 20 seconds has not earned the privilege to be calling me his 'friend'.  Really bugs the hell out of me.
www.phsurvivalguide.com
You can read a more detailed account of how this scam went down that night at the link above.  But here's the nuts and bolts of it.  It might be two or three guys who side up to you and, without asking, start following you around making you the center of attention.  Asking where you are from and no matter what podunk, dust-filled town you came from.. they are amazed and impressed.  Yah, right.  Now, this scam is not hard to spot at all.  It's just a pain in the ass to deal with.  Because the ONLY way you are going to get rid of these guys is to either get really rude or jump in a cab by yourself and get somewhere else.  They are really persistent.  They follow you around as self-appointed 'tour guides' and 'body guards'.. and they expect that in exchange for showing you where the bars are, the girls are.. you will in turn pay for all their booze and food along the way.  Essentially these guys are a self-appointed entourage looking for a meal-ticket.  If you're a foreigner.. you'll do just fine.  And they can be as annoying as they are persistent.
Now, I say that anyone could see this scam right away.  But I'm thinking the reason they persist in doing it is because plenty of foreigners actually believe this fawning bullshit and end up getting taken for a ride on the town.. footing all the expenses for these 'new friends' they ran into.  In my case I fell for it not from the dudes I met while on my walk, but on a different occasion from a group of women.  "Hey.. this was easy.", I thought.  My first week here and a group of women want to show me around.  I had a girlfriend already and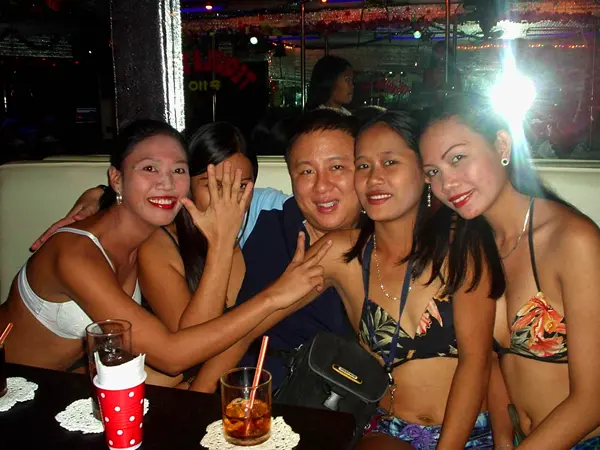 had no intentions of taking any of these women home.. but a night of drinking and dancing at a local festival sounded like fun.  Well, we were only at the festival maybe 20 minutes and suddenly they all wanted to go to the local (and biggest) dance club on the island.  Before I knew it, I was buying all the booze and food for the night by the time it dawned on me that not one of these women had a single peso on them.  And if they did, they weren't coughing up for any of the tab, that was for damn sure.  So.. when you get here, you unpack your bags and you're ready for a night on the town, look out for these leeches because they don't give a damn about who you are.  It's a free night on the town at your expense.. that's all their compliments or supposed interest is aimed at.  If you're going to spend money at a club.. spend it on your friends and women you actually know and care about.
"The 2 Most Common Sex Scams"
This first one is somewhat exclusive to the Philippines.  It works like this.  You're at a bar, dance club or even at one of the bigger malls in the city.  A well dressed, attractive woman makes her introduction and within an hour she's told you about how her husband abandoned her and she's just so desperate for some intimacy with no strings attached.  She just wants a one-time thing and knows of a hotel nearby that is cheap and discreet.  And there you are, forgetting that old adage, "If it seems too good to be true.. it usually is."  So you take a short walk or cab ride and check into a room that rents by the hour.  Things are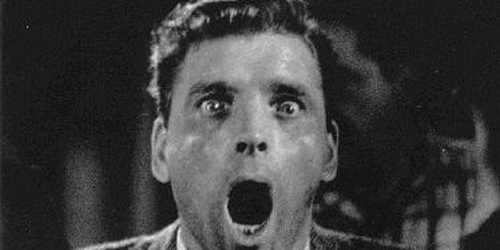 just starting to go your way with her when.. SHAZZAM!!, the guy at the desk is opening the door to let some angry dude into the room and there you are.. buck-nekked and totally caught off guard.
Turns out this dude is her husband.  For dramatic flair he might say he's been following her for awhile, or he may just be up front and let you know you're about to get blackmailed.  Because that's what this whole scam was about.  You see, it turns out that adultery is a punishable crime in the Philippines.  The offended husband can have your ass thrown into a Philippine prison for about 2 years (up to six years if you get 'caught' in her home).  He's got you.  And now the only thing standing between him calling the cops (another variation is his brother, the cop, just happens to be with him) is your ATM card.  Either you bribe off the husband and cop or you're looking at adultery charges.  If he takes note of where you live or other personal data.. he might continue to bribe you long-term.  If you're lucky.. emptying your bank balance might get you out of it and you're on your way.
The other variation on this is the "She told me she was 18." scam.  Same set-up, same busting in of the door.. only now it's her Dad, who 'just happened' to be following his daughter and NOW it comes out that she's only 16 or 17.  Oh, and he just happens to have her birth certificate with him and the police on speed-dial.  So.. it's off to the ATM or bank branch where you (hopefully) have enough to keep him from tossing you into prison.
The other common sex scam is the, "I'm having your baby." scam.  She might be pregnant, she might not be.  Doesn't really matter because with all the screaming about needing money for 'the baby' (or an abortion) you probably won't be able to think straight between that and her threats to sue you for social parent responsibilities.  So you start forking money out for several months until you realize.. hey, she's not pregnant.  Who knows, if she's smart she'll move in with family on another island and tell you she's still pregnant as she collects your money via wire-gram for all those baby-expenses she's having.  My advice on this.. tell her she's not seeing a single peso unless she gets examined by a doctor of YOUR choosing.  And it's possible her boyfriend is the one who knocked her up so.. insist on a DNA test.  Just know that bribing at DNA labs has occurred so be on the lookout for that as well.
"And Finally.. the Chaperon Scam"
As I've mentioned in other articles, it really is a legit cultural issue here that the more conservative, 'good' girls will only go out with you if a chaperon comes along.  I won't repeat all the reasons why, but it's just part of the way dating is done here even with 20 year old women.  It's totally common for them to bring along a sister, Aunt, brother or friend on your dates.
But once in a blue moon, it has happened that a girl who has been talking to some foreigner online, never expecting him to actually fly there, now finds he wants to meet in person.  Problem is, she's either got a boyfriend or husband who is totally fine with her scamming money from foreigners.. beats having a real job in his opinion.  But if you're a fish she doesn't want to lose because you've been sending her some cash on a steady basis.. they go to Plan B.. the Chaperon Scam.
You guessed it.  She introduces her boyfriend or husband as her brother or cousin and insists that, because she is such a 'good girl', he will have to accompany them on their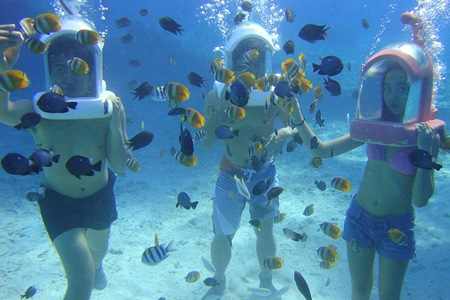 outings during the foreigner's visit.  This can get pretty nice for the boyfriend/husband as he gets to enjoy all these nice restaurants, movies, island hopping, scuba diving, etc. as 'the chaperon'.  Now.. the way to sniff this one out is to ask to meet the rest of the family, to confirm this really is her cousin or brother.  Ask to meet the whole family.  She can always get some friend, or even a real sister to lie for her.. but getting the whole family in on the scam is too much work.  This is when she'll come up with stuff like.. her parents are dead, live far away, etc.  It's sad to say but some ex-pats make the whole trip and never do catch on that they were scammed during their whole trip into taking the couple out on a nice vacation.. on their dime.
Stay Alert, Make Decisions Slowly
There are other variations on these cons, but it's really the same script each time.  Gain your confidence/trust.. draw you into their story and then put the lean on you for the money.  And then there are the people you even hire to entrust them to do a simple enough job.  Like the seemingly trustworthy woman, so humble and soft-spoken who was hired to simply collect the rents each month from the apartments she lived in.  She got both free rent AND a monthly allowance.  And yet, wouldn't you know it.. those darn renters just never seemed to pay all of the rent.  In reality, she was pocketing the money here and there for years and finally got caught with a simple conversation with each of the renters.  Cons and Thieves.. there aren't many of them percentage-wise, but they are looking for you if you seem to have money and they will seek you out.  That's true here in the Philippines, Mexico, the U.S. and every other place where desperate people can be found.
I remember years ago working in a very good company where we all got paid pretty damn well.  It turned out there was one guy who was a flat-out kleptomaniac.  Poverty didn't drive him to steal.. his greed and envy drove him to steal.  He would steal from fellow employees simply because he wanted their lunch, their nice key-ring, their nice pen, some doodad on a desk.  Poverty does not make people steal.  A greedy, lazy, envious heart motivates a person to steal.  Thieving isn't a matter of just empty pockets, it comes from having an empty conscience.
Keep your guard up.  You might say to yourself, "Oh.. I'd see these cons coming a mile away.  I'd never fall for any of that."  Guess what, that confidence is exactly what makes you the perfect target.  Because once your criteria has been convinced that this person is really, really 'legit', someone you can trust.. you will fall for the con fast and hard.  So, keep your wits about you when moving to a new country.  Keep your wits about you in your own country.  Take time with decisions, don't let someone rush you into anything.  Ever.  If someone tells you some fantastic story, take the time to really verify the facts.  Ask lots of questions.  Do you know how the Israeli Anti-Terrorist Task Force is trained to sniff out lies in some suspect's story at the airport?  They ask LOTS of follow-up questions.. VERY quickly.  It's hard for a liar to continue coming up with consistent background lies for each new lie, on the spot and quickly.. and then repeat it consistently.  It soon becomes evident they are making it up as they go.  Most liars will try to evade this process when they are feeding you a line of crap and try to distract you from asking questions, often feigning tears or despondency.  So.. never rush.. and ask lots of questions.  And if you even 'think' something is up, don't make any big decisions or promises.
How I Got Burned..
I wish I could say I've never fallen for some con job.  In my moments of thinking I was helping out some poor soul who had fallen on some hard luck.. several times I found later that it was ALL LIES.  A set-up from day-one to lure in some softhearted soul who would fall for their line of crap.  I'll finish with a most recent occurrence of this.
I was eating lunch one day in my studio, just minding my own business (which is usually when crap suddenly hits the fan) about three months ago.  Suddenly I get a text of desperation from my (then) maid that she absolutely had to have some money or all hell would break loose.  She shows up at my door soon after all teary-eyed and in a panic.  Now, up until then I had given her up to a 600 peso advance on her pay for being my maid and she always honored it for the 3 months I'd known her.  Always paid her debts to me without fail.
So the story that day is that she's in trouble.  She had put her motorcycle into pawn with some drug dealers a while back and didn't have the money to get it out.  They were pissed, she had gotten a friend to make a payment and now needed to make a big payment or all hell was going to break loose.  I tried to calm her down.  I told her to just give up the bike.  I told her I wasn't interested in taking the bike for pawn.  But nothing I said sank in.  She NEEDED to pay these guys and I was the ONLY person she knew who could help her.  Suddenly she's Princess Leia and I'm Obi-Wan as all this gets dumped in my lap.
Now.. in retrospect what I should have said was, "Sounds like you got a problem, wish I could help but.. can't.  Care for some more iced tea?"  That's what I should have done.  But.. I felt sorry for her.  She's crying.  She's desperate.  She won't go away.  So I start thinking that maybe it's time I buy myself a motorscooter.  Looking for the win-win solution to this mess.  I'd been toying with the idea but a new one would cost me $1,000 USD locally.  I offered her $400 (I really should have offered only $175, again.. 20/20 hindsight).  I knew it ran fine, even though it looked like a piece of crap.  She countered, asking for $415 and we struck a deal.  I told her I could give her $100 down and make $50 monthly payments until it was paid off.  This way she has some money to count on and I get a motorscooter for a less-than-new price.
I drew up a Bill of Sale, she showed me the Title which was in her name and she signed for the down payment receipt.  I hadn't paid her off yet so she held onto the title, but meanwhile I could make use of the motorscooter immediately and have it in my possession.
Two weeks later.. she says she is in desperate need of money (again) and if I could make the next month's payment early.  I had the money so I got her to sign for receipt of that money.  She kept coming back and I figured every dollar I paid put me closer to paying it off.  Within six weeks, I had paid off the entire $415 (17,000 pesos).  That was in mid-November, 2012.  Naturally, I asked her to drop off the Title now that it was paid for and she said she was on her way to town but would bring it later that night.  That didn't happen.  But she texted me the next day that she'd for sure bring it that following day.  That didn't happen either.
For two weeks, still no title.  Every time I asked her for it, a different excuse.  She was busy.  She forgot.  For sure, the next day.  She'd been my maid for about 4 months and was one of the few people I even knew on a personal basis in the Philippines so I considered her a friend and gave her a bit of slack.  Pretty soon it was mid-December and still no title to the scooter I'd already paid for in full a month prior.  I got more insistent and she kept assuring me she'd bring it by.  Then.. it happened.
No, I didn't get the title.  Instead she showed up at my doorstep, once again crying and despondent.  She said she 'felt bad' about making me wait for the title papers but that now she'd come to tell me that the real reason she hadn't done so was because the title papers were in her Father's room and since her Father hadn't approved of her selling it she was afraid to tell him about the sale.  I was LIVID.  I told her I didn't care about whether her Father and her were getting along or not.. she assured me I'd get the title when I paid her off and that's exactly what I should have.  Her response?  More crying.  More apologies.  But still.. no title.
More weeks went by.  It's now mid-January and suddenly she's in hiding.  Fortunately I know where she and her family lives so I kept returning to sort this out.  Long story short.. she had no intention of giving me that title.  She had no trouble obtaining it the day we drew up the Bill of Sale to show it to me.  Since then, nothing but excuses.  I told her either she gives me the title I paid for or I bring the police in to settle the matter.  She went into a screaming rage that she doesn't want to sell the motorscooter after all.  Well, kinda late for that.  Now that's she hiding out in the land of Irrationality it's pretty obvious the whole thing was a set-up from the beginning.  Now I've got a motorcycle I can't register, can't update the tags and can't ride around without having it confiscated at some check-point, which are frequent here on Mactan.  'Tag.. you're It.'  She got my trust.  She manufactured an 'emergency' out of thin air and I got suckered into bailing her out all on the premise that she could be trusted to do her end of the deal.
And that's how easily helping someone out turns into realizing you just got conned.
Update: Feb/2013.. After 3 meetings with the local Barangay Captain and two sit-downs with a Police Inspector, her Father stepped in offering to refund all my money if I would drop the charges.  This was actually a better outcome (for me) since my 17,000 Pesos was worth much more to me now than the registration for a crappy scooter I was getting over-charged for from the beginning.  I've gotten half my money already and a promisory note signed in front of the police inspector for the other half, due in two weeks.  So.. sometimes the system works.  — Reekay
So.. to re-cap… who can you trust?
It's not just how long you've known someone.  Some people go for what's known as the 'Long Con'.  They will build up rapport for a year if necessary before going to phase 2.  Older women online fall for this and it's heartbreaking.  They think they are emailing with some missionary overseas for almost a year, taking interest in his good work at such a sacrifice to themselves.  But when it all ends it's because he's tricked her out of the last dime in her savings and, now that she has nothing left to give.. he sends one last email to let her know she was conned, throwing her into too much grief to deal with pursuing him and he's on his way.
So, time alone nor the fact that they are 'family' to your Filipina girlfriend is any good indicator.  You have to look at the phase 2 part.. that's when it's just about to hit the fan.  The sudden 'emergency' that must be solved (with your money) right away.. no time for questions just wire that money and they'll explain later.  That's when you need to reevaluate whether you've put your trust in the wrong person.  Real friends are there whether you can help them or not.  Con artists play the role.. but their one objective is always to get their hands on your money.
I wish the world was a better place.  I wish there were no cockroaches or leeches in life but.. that's not gonna happen anytime soon.  All you can do is (a) keep your wits about you.. (b) never rush into a decision and (c) always ask lots of questions.
Reekay V.
www.lifebeyondthesea.com
www.phsurvivalguide.com
Since 2012 I've been traveling through various islands of the Philippines as a full-time Expat and spent 1999 living in Vietnam.
Share with me my ongoing adventures of life in the Philippines. Hopefully you find my observations helpful in your own adventures.
— Reekay