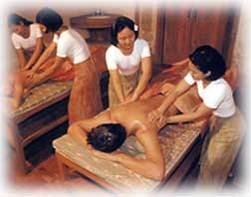 As I mentioned in a previous diary entry, I've been a little under the weather today with a slight cold, or flu.. never could tell the difference since they both suck.  Anyway, I was advised that a massage would help.  Here's the deal with me and this idea of 'massage'.. I never had a massage in 49 years.  I've always had this apprehension about the idea that it was just a slippery slope from outright pleasure for money.  I know, just part of growing up American.  Puritanical repression, yadda yadda.
July, 2012, I arrived in the Philippines and I spent most of that time still resisting the idea of a massage.  For some reason casual sex seems like a more natural idea than having some stranger just start grabbing you all over with the sole intent of making you feel good.  At least in the casual affair it's a mutual thing.. each person is getting the same satisfaction.  But with massage, one person gets pleasure and the other person gets money.  Hence the comparison to the oldest profession.  A few months ago I finally let
my maid
 (
now former maid.. long story
) give me a massage at my place.  That felt great.  She used to work in a massage place and knew a few things.  Unfortunately that played havoc with my then relationship.  For some reason that probably only women can understand.. having a  stranger grope you is better than the maid doing it.  I still can't figure that one out.  At least the maid I know her name and am already paying her to show up and do stuff around the house anyway.  But I digress.
So there's this massage place I pass all the time near my house.  Seems legit.  Not a cat-house in disguise.  I even stopped in there about two months ago to ask a few questions but until today never got a massage from a legit massage professional.   So today, after first getting a haircut and some late breakfast I finally decided to just face my fears and walk in for a massage.
I walked in trying to appear as if I'd done this a thousand times.  Wasn't very convincing.  I perused their menu of various massage techniques.. none of which I was familiar with, and told the gal at the counter I'd like a 1 hour Swedish massage.  I like Swedish meatballs, Swedish chocolate.. I'm guessing their massage is pretty good too.  ??  She asked me to sit for a moment and soon returned a different girl, a fairly attractive Filipina.. slender of about 90 pounds from behind the curtain.   She set a wide wooden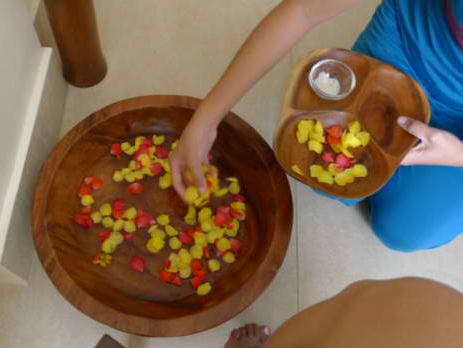 bowl with warm water and flowers floating in it at my feet, slipped off my street sandals and upon placing my feet into the large bowl, began to wash my feet.  Hmm.. that was nice, yet not what I'm accustomed to.  But I went with it so as to avoid any awkwardness.
After patting my feet dry with a towel she gave me a clean set of slippers and gestured for me to enter "beyond the curtain".  It was getting real now.  As I entered my eyes had to adjust to the low light.  There were about a dozen massage locations, separated by nicely decorated bamboo and linen curtains, each with a sash, all very nicely decorated with some gentle music playing softly.  The entire room was dimly lit with candle-lite and smelled of lilacs.  I followed her to a massage bed which was very low to the ground.  She gave me a basket which had only one item in it.. a loose-fitting pair of seamless shorts.  "Uhm.. just this?  Just wear this?", I asked just to make sure there was no misinterpretation.  "Yes, I return in moment.", she replied as she closed the linen curtain behind her.  One thing about clothing here in the Philippines.. it's easy to get naked really fast.  I slipped off my clothes, put on the shorts and left my clothes in the little basket on the floor.
She returned and instructed me to lay down with my face in the hole on the massage bed.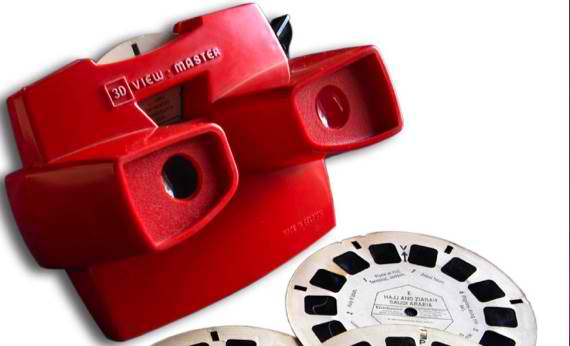 As I did so the first thought that came to my mind was, "I can't see anything.. this would be a great place to install one of those 3D Viewmaster things."  She placed a towel on my back and began to massage first my legs, then shoulders and lower back.  Lower back is where I really needed it.  This would be a one-hour deal so I knew she was just warming up.  As I let myself relax and just enjoy the experience I still felt things were slanted way too much in my favor.  I was getting all this pleasure and she was doing all the work.  Just didn't seem fair.  Soon she was standing barefooted on top of my calves and made her way to the small of my back, standing atop me as she steadied herself somehow.  Damn.. that felt good!  She walked up my back several times and it was then I was glad she wasn't weighing in at 200 pounds.. I don't think my back could take that much attention.  But at 90 pounds it was feeling really good.
After a bit of that she pulled away the towel and I heard could hear a pump bottle being used.  The mineral oil that they mentioned was included with the massage.  This was when I felt my shorts get pulled down with a swift motion and her hands began to oil and massage my exposed cheeks.  Whoah.. I hadn't been oiled up and groped like that since, well.. since last week.  But that was a different situation that didn't involve business.  I barely got 20 seconds to see this girl before she asked me to strip down and now.. well, now she's getting all familiar with me.  But I liked it so.. I figured, "She's a professional, probably thinking about her grocery list right now."  After a bit of that, she still hadn't stopped although she was massaging my lower back as well and that felt really good too.  It was at this point I really, really felt that the proper thing to do was to roll over, lay her down and give her some pleasure in return.  I really had to remind myself that maybe that's frowned upon in these sort of establishments.  But it just didn't seem right she was making me feel good and I wasn't returning the favor.  The imbalance of pleasure seemed unnatural, but I restrained my baser urges and let her have her way with me.
After what seemed like 20 minutes she made her way up my shoulders and then did some awesome moves with my arm and lower-calves that was somewhere between pain and joy at the same time.  Very unique feeling, wasn't sure if I wanted to punch her or kiss her.  She then used a dry towel to soak up any excess oil and asked me to turn over.  I complied and she placed a small towel over my eyes just before she began rubbing me down again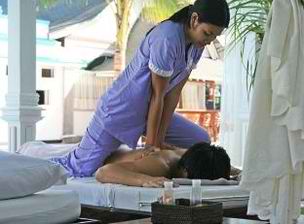 with oil across my chest and shoulders.  I kinda felt like a sedated gorilla getting examined by the Vet at this point.  She moved around my arms and legs, leaning in with her weight as I was twisted in various ways to stretch out my ligaments and spine.  One move was kinda like when the police take you down with your arm behind your back and a knee in the back.. that was interesting.  A few more odd, but satisfying positions later and she asked me to lay down and rest.
With the towel again over my eyes, I knew she'd returned when she began to use a slightly hot, wet towel to wipe away the last of the mineral oil from every part of me.  Systematically she kept using fresh, warm towels to finish the job until I felt I'd gotten a complete sponge-bath.  She asked me to sit up, left and returned with a tray upon which was a cup of hot tea with some flowers.  I guess that's how they let you know they are done.  She said I could come to the front desk when ready so I sat there, all relaxed in my skimpy, loose linen shorts and enjoyed my tea in the near dark while harp music played gently from somewhere overhead.
I finished my tea, got dressed in a snap and returned to the seemingly harsh light of the lobby to settle up my bill.  300 Pesos (about $7.31 USD) for the whole 1-hour experience and worth much more than that.  I tipped the massage girl another 100P since I wasn't sure what her 'cut' of the house price was, she was very appreciative.  The girl at the counter asked if I had anyone waiting for me at home, "No.. it's just me, for now.", I replied.  That was when she mentioned that they also provide in-home massage, 24 hours a day.  Noted.  I then grabbed my bag of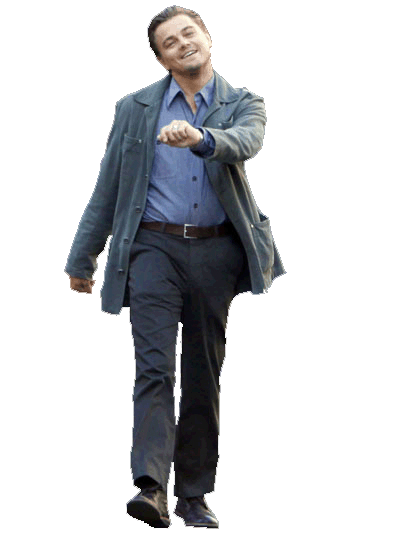 Gummi-Bears and went out the door feeling like brand-new.  Still sniffling and sneezing every so often, but my body felt really relaxed and balanced out.
I'm still not convinced "muscles get air-pockets" or that the flu can be cured with a massage as is widely  believed here.  But a good massage does do the trick to distract from the symptoms and feel a lot better.  Now that I've tried it.. the whole dim-light, gentle music, soft yet skilled hands, body twisting, oil-rubbing experience.. I'd say "Yah.., I'd do that again."
I never did get her name though.  Does that make me even more easy than before?  Oh well, felt good.
Henry V.
www.lifebeyondthesea.com

Since 2012 I've been traveling through various islands of the Philippines as a full-time Expat and spent 1999 living in Vietnam.
Share with me my ongoing adventures of life in the Philippines. Hopefully you find my observations helpful in your own adventures.
— Reekay