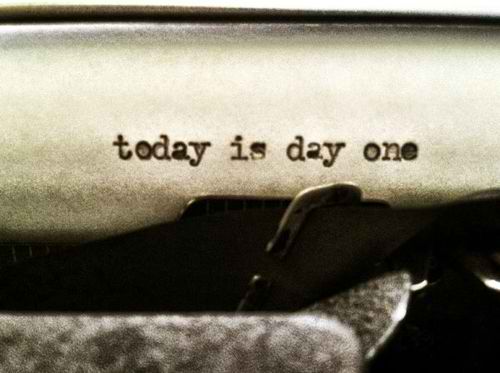 Well, last month was certainly full of surprises.  I didn't anticipate being single again when the month started back in October.  Even though I knew the possibility (theoretically) existed even before I left the States, I really didn't see breaking up as a likely possibility.  Just because something is possible does not mean it is necessarily probable.  
Even so, back then I had to ask myself if I would still stay in the Philippines if things with my girlfriend and I didn't work out.  Before I ever got on the plane I knew that a new work environment and ability to spend more time writing would keep me here if that were to happen.  And happen it did.
So.. this last week I've had a new set of eyes on.  I've been analyzing the right type of Filipina lady who would be a 'right' fit for my situation.  My situation is a bit different from most guys who come here.  Most ex-pats getting off the plane are over 62, collecting their social security and open to the idea of starting a new family.  That's not me.
I'm only 49 (currently, 2012) and since I have no retirement money to fall back on, running my online business ventures is more of a necessity than a hobby.  I just think of it as an indefinite semi-working vacation.  I work my own schedule, but I do have to 'work' albeit via my laptop.  Which brings me back to finding the right companion here.  I want to grow my business, do some traveling, report on what I see and write my novel.  I also do NOT want to have any babies or get married any time soon.  This means I need a Filipina who (a) Does not have children, (b) Does not want children either, (c) has her own goals and schedule so I have time to work and (d) makes my life easier, more pleasant.. not harder or full of drama.
With the workload I have and writing a novel, I can't get involved with a Filipina who has NOTHING to do all day but be in love.  Otherwise one of two things will happen.  Either I'll stick to my work and she'll be bored/unhappy or.. I will put her first and, as I give her attention all day, my work productivity will suffer a tremendous blow.  So.. a Filipina who is either already working (preferably not in a strip bar) or going to college is ideal.  Also, so many women here by age 23 have a child already from some loser who got her pregnant and disappeared.  Married ones are even a worse choice since, well.. you can read more about how I learned that lesson -HERE-.
I've given it a lot of thought while on my long walks and have come to a conclusion that will doubtless raise some eyebrows from family and friends back home.  Here, in addition to a Filipina who is busy with either school or work, for her to have no children and young enough to have children in a second marriage after I am gone there is only one logical solution.. choose the youngest lady available.  I'll go into this in more detail in a separate article, the reasons behind my conclusions.. but suffice it to say that I'll not be looking for any 49 year old Filipinas who have never had children.  They don't exist, not even at 25 years old.. it would be like trying to locate a unicorn.. with blue eyes.
So, today I went to the mall since the water-company I get my purified drinking water from STILL had not delivered my water since yesterday and I'm now completely out of drinking water.  Usually they deliver it in 30 minutes but when I passed by yesterday they were hustling to fill out some huge order.. probably for one of the local hotels.  I really liked the sandwich I had at the Pink Daisy the other day, and they have the cutest girls working there so.. a deli sandwich is what initially led me there.  Usually there is a team of three, extremely cute Filipinas working there in short, pink mini-skirts.  It is at the entry of the mall and since my first day off the plane it's impossible not to notice how cute they are.  But today there was only one of them there running the place.  I ordered the chicken fillet, pasta salad and the chocolate pudding with graham crackers.  (I rarely get chocolate here, but that's another story.)
So, the girl brought my food and kinda monitored the eating area since there was another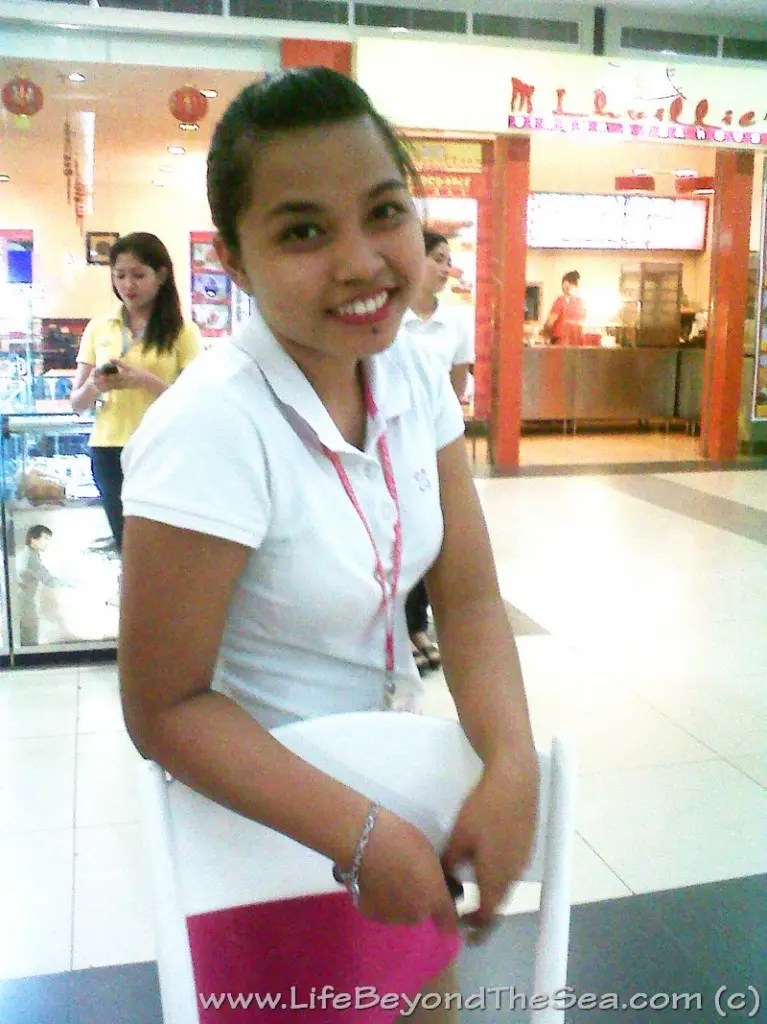 customer there as well.  After a few moments she asked if the food was satisfactory and I heartily told her, yes.. it was very good.  It was after 5pm and this sandwich was actually my breakfast.. yet again I got so busy I forgot to eat all day.  Next thing I knew she and I were talking for over an hour, interrupted only twice by other customers in need of service.  The rest of the hour we just talked and hit it off right away.  I asked her if she'd like to spend more time together this Friday and she said, 'Yes.'  So.. I guess this Friday I'll be seeing her (Michelle, seen at left).. and most likely either her sister or best-friend will tag along because, that's just how it works here.
From all first appearances she seems like a likely candidate.  Too early to tell for sure, but as I shared with her the kind of Filipina I'm looking for she agreed that it makes good sense for someone like me.  She even said she has had reservations about having a child with the world the way it is now, so uncertain both politically and financially.  She's very cute, even with her hair all pulled-back for work.  Sweet and amiable.  We exchanged cell numbers and I asked if I could take a photo to match with her number and she posed for three photos, no problem.  One of which is the one you see here (above).
I had two dates with another young lady earlier this week, but things fell apart on the second date as we had the 'baby' conversation.  Better to find this stuff out now, is the way I see it.  But she still wants to stay friends and she's adorable in every other way.. a truly lovely young lady named Sarah.  As for other candidates, the only other one I'd consider is Kristine.. but she's not interested so, no point pursuing that.  Better to remain friends since I really count on her for good advice when it comes to my questions about how Filipinas think here.  Even she told me the other day that us getting involved might be the end of our friendship if it didn't work out.  The last time I heard that from a close female-friend, nine years later she still felt the same way so, I'm not expecting Kristine to change her mind any time soon.  But I do adore her, she's a real heart-breaker.
The only other women that hit the radar are Baby and Steffani.  Baby, my maid and friend, is in the midst of breaking up with her boyfriend but.. I like her as a friend and she feels the same way so.. we're both gonna just leave that alone.  I don't even want to mess that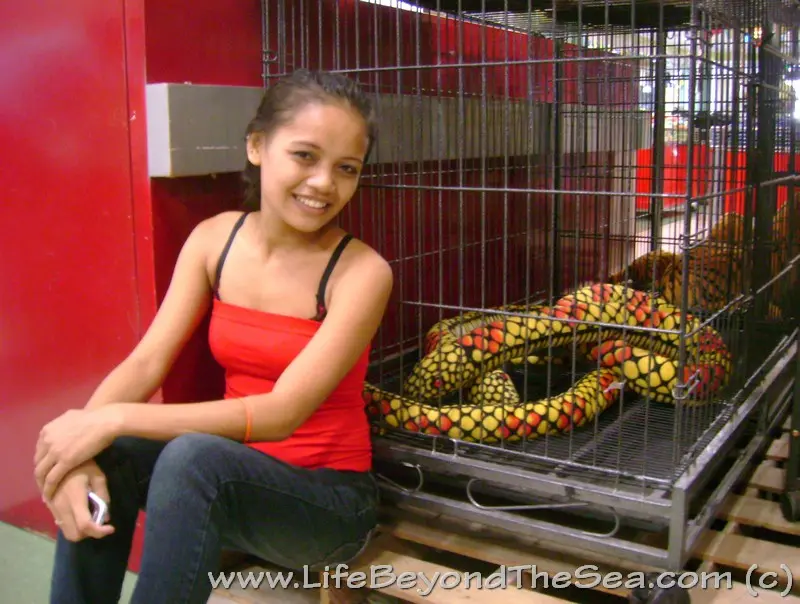 up because (a) she cleans my apartment really well, (b) she gives very good massage and (c) she's a good friend I'd not want to lose.  So, she's not an option.  And that only leaves Steffani (seen here).  She's just super-cute when she's all dressed up.  This photo is when I did a photo shoot of her at an arcade for her Facebook page.  She's a fun girl but has a baby already and that doesn't fit into my long-range plans.  She's got tons of energy, very happy and is fun to be around.  But not an option for me.  Her sister is absolutely gorgeous.. but she also has a baby.
I don't know the future, obviously or I'd know what Lotto ticket and stocks to buy.  I will just have to find my way despite the completely different dating paradigm that I find myself in.  Here, things move VERY fast.  In the States you have the luxury of 'dating' someone with no commitment for months at a time before transitioning to the 'Exclusive' status of dating, ie; the 'Relationship'.  Here.. none of that.  First Date:  Decide if you like each other.  Second Date:  Meet the Parents and entire family at their home.  Third Date:  Begin discussing 'no other women' and 'living together' or marriage.  You might think I'm exaggerating for effect.. I wish I was.
My first date with Sarah, her Aunt and cousin came along.  Our second date, I was given 'clearance' to be alone with her if I had her home before dark.  At the end of the date, I was supposed to meet her parents but instead visited the home of her Aunt because her parents had to work late.   There are some 'liberated' ladies here who date who they want, don't involve their parents, get tattoos, smoke, drink and stay out late.   But they are not the 'top-shelf' Filipina that I am looking for as a long-term companion.
So.. onward into the new chapter with my wits about me and an eye fixed on the horizon.  I know what I want, I know she exists somewhere.. I just gotta sort through the candy store to find her.
Henry V.
www.lifebeyondthesea.com

Since 2012 I've been traveling through various islands of the Philippines as a full-time Expat and spent 1999 living in Vietnam.
Share with me my ongoing adventures of life in the Philippines. Hopefully you find my observations helpful in your own adventures.
— Reekay