[Calif., USA – July 18, 2012]  Now that I'm down to the last 21 days prior to my departure from the US, it's time to start buckling down from the 'big picture' to the 'nuts & bolts' of this trip.   If you plan to visit for a length of time, here are the items on my check-list as to what I'll be taking for my move.
Housing — There are a couple ways to go about this, each with it's pros/cons, depending on your budget, desires and networking.  The first option is to secure a 2-room Studio.  If you know someone at the island you plan to stay at, about a month before your arrival have them scout out a 2-room studio, preferably in a subdivision since those come with a security guard at the gate.  Depending on the area, expect to pay from $120/month (USD) outside the city in a semi-rural area to $200/month (minimum) anywhere close to or in the city.  Islands such as inner-city Manilla, Angeles, Cebu expect to pay more than that.  But this is a great option for the extended stay since staying at a cheap hotel, while only costing $15/night translates into over $450/month.
If you don't know anyone who can scout out a place for you in advance, then feel free to arrive, grab a cheap hotel for a week while you ask around for any subdivisions with Studios available.  While you will find more expensive places online at either Craigslist-Philippines or Sulit-Room Ads, the real bargains are found by looking and asking locally.
If you are a single guy and on a budget, instead of staying at a hotel for a week.. you can give yourself more time to look for a place by renting a room with a family for about $45-$60 a month, flat-rate.  The one caveat here is that you will want to ask that you get a room with a door that locks so you can secure your valuables.  (just to be safe)  This way you can take the whole month looking for a more permanent place at a much lower cost.  If that seems too risky a way to go, visit some of the online Newsgroups on Yahoo! to ask other ex-pats over there for a personal recommendation for a place to rent.  Most ex-pats are pretty helpful and usually know someone looking to rent a room local to their area.
I had help from the locals, so I was lucky to score a very nice, brand-new 2-room studio, with guard, for $106 (USD) per month.  A 6-month lease is usually the minimum with the more legit, property-managed places.  But, make it your home temporarily and if you find a better, cheaper place just move once the lease is up.  Trucks with moving guys can be hired for about $45/day.
Air-Conditioning —  Or.. 'air-con' as they call it, does not usually come with your rental. You can see if you can 'rough it' with some fans if you like, some do.  But most of us 'Kanos' want our air-con eventually.  A brand-new, 1/2 horse-power unit for one room will go for about $180 locally.  It's yours so, when you move you take it with you to the next place.. that's just how they do it over there.
Banking —  Good luck with those traveler's checks.  Banks get kinda particular in ways you're not used to at home.  Depending on the bank, some do not want to accept for deposit a worn out US bill or a 'new' bill, thinking it might be counterfeit.  But what you will need is a way to store and access your money.  For transfers to move money from your US bank to youself in the Philippines, I recommend Xoom.com .  With them you can send yourself money that is ready for pick-up usually within 2 hours same day.  Or you can open a local BDO (Banco de Oro) account and have Xoom deposit it straight there.
If you decide to just pull money from an ATM, make it worth it because you'll get hit with charges from that ATM, and your bank plus your banks 'extra' charges for using an overseas machine.  In addition, if you insist on using an ATM, go to an indoor Mall where there are security guards, not some ATM along the street.  It's not safe to be seen pulling large amounts of money in public,  so whatever you do to be safe.. double that effort while overseas.
Communication —  Have a way to keep in touch with family/friends back home.  You can use your laptop to Facebook or Skype, email, etc.  But what is your backup plan in case your laptop crashes or is stolen?  There are plenty of Cyber-cafes, so know ahead of time where to find them.  Go with your gut, if the place seems 'shady' and you don't feel safe entering your passwords there.. your better bet are the more legit cyber-cafes in the large Malls.  Not that that's any guarantee, but you'll know where to find them and they have a good location and don't want problems so, I'd trust them over some of the smaller places.  Just something to consider.  Before you use the PC, ask them if the PC reboots and 'cleans' out before the next person uses it.  Legit places already have software in place that does this rebooting.  If they don't know what you're talking about, so somewhere else.
Travel Comforts —  Some of the items you'll want to take along are;  Toiletry Kit, with clippers, toothbrush, shampoo, etc.  Light, loose clothing.. preferably light cotton since you'll be sweating from the humidity and shorts, bathing suit.  Camera.  Batteries.. take along those big-packs of 36 because the batteries there are kind sketchy on performance.  You may not find your favorite battery brands easily overseas.  iPod/desk music player.. or you can use IHeartRadio.com on your laptop with some extension speakers to hear your favorite music while overseas.  Q-tips.  In general, take nothing for granted.  Many small items you pick up locally are 'imported' items if you want your favorite brands (at a higher price).  That goes for disposable razors especially.  Many of the cheap ones there are only good for a few shaves.  Things like a hand-crank can-opener is often so flimsy it just falls apart.  So, think of little things you need and take them with you.
Swimming/Security —  This is a cheap, simple solution to enjoying your swims at the beach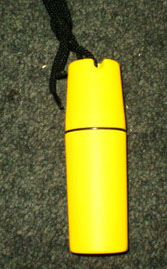 without worrying about your wallet out at the sand.  Without taking some cash to the beach you'll have no pesos to get lunch afterward, or pay the trike to take you home.  So the simple solution is to get 1 or 2 of these (as a backup) for about $3 each on eBay.  This way you can stash your room-key and some pesos, hang it around your neck and go do some swimming.  🙂
Backpacks  —  If you're going to stay long-term you'll eventually want to venture into either town or do some island hopping overnight.  I plan to take a small backpack so I can carry my own clean, bottled drinking water.  Clean water is a BIG deal over there.  It's hot, humid and you don't want to get either heat exhaustion or a kidney infection from not drinking enough water.  You also don't want to drink 'bootleg' water that is filled from the tap and sold on the streets by some of the shady vendors.  (otherwise the only view of the Philippines you'll see is from a bathroom window while you do your human-sprinkler impression on the toilet).   I also plan to take a larger backpack, for overnight stays on nearby islands.  Just big enough to carry a few day's clothes and toiletry kit, but still easily managed.
Notepads —  Usually, when you're surfing the Net and want something like the movie-schedule, phone numbers, etc. you just print it out.  Unless you plan to haul your printer with you, or even if you buy a printer there.. ink is costly and you'll want to conserve it for important print jobs so.. take or get a stack of notepads and get into the habit of writing crap down.  You know, just like Abe Lincoln did by candlelight before Fios.
Wireless Router  —  Got one?  Take it with you.  Internet to your home is pretty cheap, about $29/month.  While you may get a modem (?), you can bet they will be selling the router for your wireless signal so.. take yours and hopefully it will configure so you have wireless in your new studio.
Message System —  I covered communication 'to' home.. but have in place a way that friends/family can CALL (in case they don't have internet) and leave a voicemail online for you.  This way you can hear their voicemails and call them back via MagicJack, Skype or whatever.  I've found the best way to do this is with Google-Voice.  This gives you a number local to your relatives in the States where they can leave you voicemails 24/7.
I'm sure there are other items I could cover that you might find useful, I try to pack as lightly as possible while still anticipating items that are hard to get once there.  Just try to imagine ahead of time, "Could I do without such-and-such?  No?  Better take it along."  I suppose it's inevitable I'll arrive and realise, "Dammit!  I forgot the blah-blah-blah!".  But.. that's what makes it an adventure, eh?
Henry V.
www.lifebeyondthesea.com

About Me.. In 2011 I made the decision to move to the Philippines within a year. Since 2012 I've been traveling through various islands of the Philippines as a full-time Expat. (Mactan, Bohol, Panglao, Moalboal, Dumaguete, Bacong, Boracay, Cebu) I recently spent the year living in Ho Chi Minh City, Vietnam.
Share with me here my ongoing adventures of life in the Philippines. Dating, vlogging, cooking, traveling and sharing the information with you needed to make your own plans for living as a full-time expat in Southeast Asia.
— Reekay