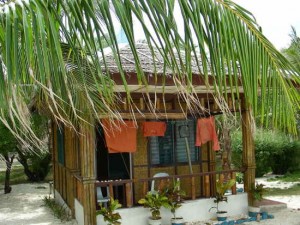 [Calif., USA – April 16th, 2012]   Click for 'Part 1' or 'Part 2'..
(contd.)
So.. what, or where exactly is Paradise?  Well, I see it this way.  "You can take the boy outta the country but you can't take the country outta the boy."  Same goes for unhappy and happy people.  Despite the poverty, critters, hard life and lack of amenities.. Filipino people AMAZE me at how upbeat and happy they can be.


I mean, they are truly some of the nicest people as a nation you will ever meet.  And not just because you're "the rich American".. even among themselves they have strong moral values for family and friendship.  Sure, there's always a few bad eggs in the bunch.. but no different anywhere else.  Yet overall.. despite the circumstances, many Filipinos find happiness there and are proud of their country.
Likewise, you can take an unhappy, ungrateful, critical person and put him or her in the midst of any form of 'paradise' and it won't be long before they are COMPLAINING.  They compare everything to, "Back in the US..".  Well, if the US is their paradise, then that's where they belong.  But I don't want them mucking up my bliss with their belly-aching.
Now, despite all my research.. and I've only shared the tip of the iceberg with you here about the rough edges of 'paradise'… I know that it will take on a WHOLE new dimension of weirdness when I step off the plane in July.  I can't change the Philippines into what I know from 'back home'.  I can't change their culture, total waste of time.  The critters and weather will be unrelenting.  So how do I plan to survive paradise?
Well, going on past experience in other areas of life, I've learned there are TWO things a person must do to survive a drastic change in environment:
"Adapt & Blend"  I will have to let out a deep breath and prepare to empty myself of expectations.  I will have to be ready to adapt, change my mind and my perceptions and my habits to what the environment IS.  Resisting adaptation will only frustrate me into insanity.  (Or turn me into one of those aforementioned cranky & complaining ex-pats.)  I must be willing to change to better suit my surroundings.
I will also have to "blend in".  Now, not even after 20 years there will I ever pass for a Filipino, not even after learning the language.  That's not what I'm talking about.  I'm talking about becoming 'part of' my surroundings rather than remaining 'foreign' to it.  Again, non-resistance.  I am not some champion of "how things are done right" there to save the day.  I am there to learn their way of life.  That means being thankful for the good, rather than spouting off how nothing meets my standards.
They say things move slower in the Philippines.  People take their time so, forget about being in a hurry, nobody's going to 'rush' anything just for your sake.  When I left behind a well paying job with massive benefits and $30,000 bonus checks people asked me, "Why would you leave?!  You've been here 21 years at the Company."  My response to them was, "I want my time back."  Having my own service business gave me a LOT of my time back.  Time and freedom to pursue my interests and hobbies on my own schedule, not what little the 'company' allowed me to have perhaps one day a week.
And for the last 5 years it's been great to have a big chunk of my time back.  Now, it would seem destiny is offering me a chance to take it to the next level. What is 'paradise' for me?  Getting even MORE of my time back.  Practically multiplying it to get back what I lost before.  Less time working because I can provide for my needs much more cheaply.  More time to pursue my writing and photography, not to mention the beauty of some amazing islands in the tropics.  
Paradise is where you make it and what you make of where you are.  A change in locale alone won't do it.  And, if I've conveyed anything in these details, I hope it convinces you that the Philippines version of "Paradise" is NOT for everyone.. not by a long shot.  Online I already have conversed with some cranky, old, retired, ungrateful Americans who moved to the islands and have been bitching since they got there.  All they accomplished was dragging their own personal hell to a more humid climate.  
So, in order to find your own 'paradise'.. seek your bliss, your joy, your happiness first in your spirit and your values.  Ask yourself what is important to you, and what you'd have to change to make it happen.  Are you going to put it off for another ten years?  You only live once, you know.  (Unless you're Hindu, but that's something else entirely.)  But seriously, paradise is not a place.  It is knowing what your priorities are and then being in the center of where those priorities can flourish.  For you, it might be starting your own business, getting a degree, raising children, competing in martial arts, doing missionary work, helping at your church, restoring classic cars or any number of things that life has to offer.  
Define what is important to you and then, it's my belief that finding Paradise will come much easier.
Henry 'Reekay' V.
www.lifebeyondthesea.com
Since 2012 I've been traveling through various islands of the Philippines as a full-time Expat and spent 1999 living in Vietnam.
Share with me my ongoing adventures of life in the Philippines. Hopefully you find my observations helpful in your own adventures.
— Reekay