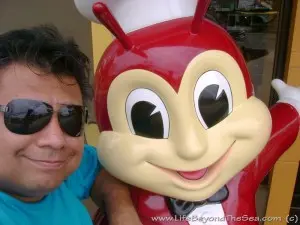 I have dropped in to about six Jollibee's in the last two weeks, however until today it was only to order some much needed cold water.  I am trying (somewhat) to stick to a healthier diet so while I've long heard of Jollibee's, I'm trying to veer myself away from fast-food as much as possible.  However, since Jollibee is such an iconic and large franchise here in the Philippines I would be remiss in my duties to not stop in and try out their signature 'Champ' combo meal.
Here in the Philippines there is a vast selection of types of foods.  Some franchises cater more to the Asian palate while Jollibee's seeks to provide more of a Western alternative similar to McDonald's.  Just earlier this year Jollibee's
bought out the existing Burger King franchises
in the Philippines making it the major burger player in this region.
I ordered up the 'Champ' combo meal, with large drink (diet Coke), standard fries and an extra bottle of water.  (Gotta stay hydrated here and soda don't cut it.)  Total came to 174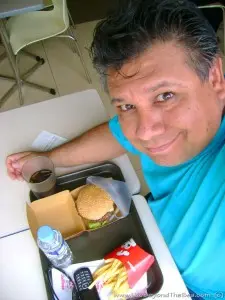 Pesos, equivalent to about $4.14 USD.  The burger took about 8 minutes to arrive.  In  a country where everything moves at a leisurely pace, I really didn't mind as typically every Jollibee I've entered has excellent air-conditioning (air-con) in place.  And no matter where you staggered in from.. that alone is reason enough to stop in to get away from the heat and humidity of the day.  Their other items, such as fried chicken, spaghetti and chicken burgers were ready to serve so I'm guessing those are actually their biggest sellers.  Even one of the locals told me, "Be sure to try the chicken if you don't like the burgers."
The fries were immediately familiar.  Basically, same as McDonald's fries.  Thin, crispy, hot,  salty and addictive.  The Champ burger was, for the money, a decent burger.  It's not anywhere near close to the Carl's $6 Burgers.  But for $4 it's not a bad burger.  The only thing that stood out was the burger patty.  If you've ever made burgers at home and tossed in oatmeal, eggs and some teriyaki sauce then you have a good idea what to expect with the Jollybee meat patties.  Even the locals here will tell you it's near impossible to come across good beef here.  (If you want anything that resembles a decent steak you need to go to the 4-star resort restaurants and pay premium price for it.)  There just isn't the land or industry drive to run cattle ranches locally to provide an abundance of good beef.  Most meat is imported (ie; frozen) and in the case of burgers or somai, fillers are added to it to make it go further.  So, the consistency of the burger patty is a bit softer than real beef, not mushy entirely, but not the firm Angus beef patty you're used to in the States.
But that's not to say it wasn't an enjoyable meal.  There are plenty of other places to eat for half the price so how is it Jollibee has managed to become so successful here?  Well, just like McDonald's.. it's not all about the burgers.  When I go to a Jollibee's I know I can count on clean restrooms (CRs).  That's a valuable commodity in the gritty city.  Practically an oasis of sanity where you can stop in, get a cheap meal, freshen up in the CR and walk out the door with a bottle of cold water.  Other than the large SM Malls, Jollibee's is one of the few, very few, places I can count on for, not only a clean restroom, but one with actual toilet seats and real toilet paper.  A trifecta of comfort I wish were more common.  But here in the Philippines at most establishments do not expect such luxuries from your average comfort-room.  Also, each of the franchises I've wandered into thus far are kept neat and clean.  As is custom at many decent businesses here, a security guard is present to keep an eye on things, although there is a sign on the wall stating, "Please keep an eye on your valuables."
And while the Philippines is generally a very polite society as it is and customer service is something they strive to excel in.. every Jollibee I have been to has been trained to run in an exceptionally professional manner.  The people behind the counter take that extra effort to make you feel as if they'd been waiting all day for YOU to show up.  I guess if I had to capsulize it into one word it would be 'Enthusiasm'.  When was the last time you entered a fast-food place in the US and felt genuinely impressed with their sense of attention, professionalism and enthusiasm?
I suppose I only have two items that could be counted as a negative.  The first would be that I had expected a large chain such as Jollibee's to provide free WiFi in their dining area.  That is such a basic move to keep customers coming in even if it meant an extra sale of bottled water or another hamburger combo.. no free WiFi came as an unwelcome surprise.  The second item is somewhat consistent with most any eating establishment in the Philippines so.. in that sense they are par for the course.  What I refer to is the standard 2-napkin policy.  And these 2 napkins are single-ply, only perhaps 3″x4″.. almost useless.  There are no napkin dispensers and while I suppose they might give you more if you ask, it's something of a drag to be in the middle of your meal and NEED more napkins, especially if dining with small children.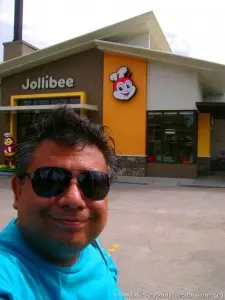 So will I be getting more 'Champ' burger combos in the future?  Personally, I (and my arteries) can do without them.  For me, if I'm going to stray from my desire for a healthy diet I'd rather do so for a Carl's Jr Steakhouse Burger.  However, I think the nearest Carl's Jr. is probably somewhere in Japan.  But I will stop into any Jollibee's I see for fresh, cold water.. a brief respite from the heat and clean restrooms.  And I'd not be beyond ordering another Champ Burger.. it hit the spot on a hungry afternoon.  They also have ice-cream so.. maybe a little treat every now and then wouldn't be so bad.  🙂
Henry V.
www.lifebeyondthesea.com

Since 2012 I've been traveling through various islands of the Philippines as a full-time Expat and spent 1999 living in Vietnam.
Share with me my ongoing adventures of life in the Philippines. Hopefully you find my observations helpful in your own adventures.
— Reekay