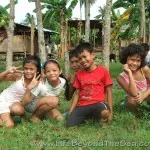 On the island of Cebu, I spent a Sunday to have lunch with some new friends who live in the Mandaue area known as Consolacion.  What a wonderful (and tasty) feast they provided.  Afterwards some karaoke and then to a local pond to race RC boats with the local kids looking on.  A great day, thanks to Jesse and Francoise for their abundant hospitality!  — Henry V.
(p.s.  Press the F11 Key on your keyboard to view in Full Screen Mode) 

Since 2012 I've been traveling through various islands of the Philippines as a full-time Expat and spent 1999 living in Vietnam.
Share with me my ongoing adventures of life in the Philippines. Hopefully you find my observations helpful in your own adventures.
— Reekay