Question:  "You tend to 'look' more Filipino than myself and I think that is why u blend in and don't have a lot of problems. Do you think someone with blue eyes and white skin will have more problems with the locals?  That is my BIG worry."  — From 'K'
"Oh yah.. you blend."  — Marissa Tomei ; 'My Cousin Vinnie'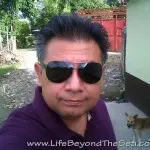 Henry:
 It is the Ying and Yang in play when it comes to "
blending in
" here in the Philippines.  There are some advantages and disadvantages so I guess it's just how you look at it.
On the positive end.. here in the Philippines, having white skin and especially blue eyes totally works in your favor when it comes to women here.  White skin is totally a big thing here to the point that there is an entire aisle in every grocery store devoted to helping women lighten up their skin in hopes of attracting the "White Male".  I really wish they'd listen to me that it's their olive complexion and Asian features blend that gives them their exotic 'look'.  But in regards to White skin, blue eyes or blonde hair.. THAT is their idea of Prince Charming and (good news) it has nothing to do with your actual looks.  So even some 'average Joe' back in Australia, Canada, the U.S. or wherever is automatically considered handsome the moment he steps off the plane here.
Another benefit is that whatever skills you may have or when dealing with businessmen, the basic assumption is that if you are from the West.. you must know what you're talking about.  (Ha!)  Most especially if you have any background in either education or tech fields such as computers, engineering, architecture, teaching degree, college, etc.  The history of American presence here from the 1940's still is prevalent today.  In their minds, 'White Men' know their stuff and people, men and women, will often ask your opinion on various topics.  So.. a smidgen of respect is kinda nice when dealing with other Filipinos here, and that's a plus.
Now for the Yang.. the not so great things about being the Big Fish around here.  First there is the unofficial 'Skin Tax'.  That's  the slang term for the extra-special price you get when shopping for anything that doesn't come with a price tag.  Transportation for instance.  While I don't 'look' American, it only takes me saying something for them to immediately label me as a 'Kano' and suddenly I'm getting the 'special price for you my friend' quote from a Tricycle driver.  (Not so much locally now since I've been here awhile, they figured out I'm not a 2-week tourist.)  A ride to the other side of town normally costs (by State law) about 15 Pesos.  Now, that's roughly 35 cents USD.  But for me, I can't get that 15 Peso rate unless I bring one of my Filipina friends along to handle the transaction in Visayan.  Only THEN do I get the local rate.  For this reason even though I love to ride the tricycles, I will take a taxi since those are metered and I get the same rate every time.
In the marketplace, same thing.  I've bought pineapples from the same lady in the marketplace for weeks and I get a different price every time.  It's still cheaper than the grocery store so I'll haggle and offer one price for 3 pineapples and we're both happy.  (I love pineapple, I'm in heaven here.)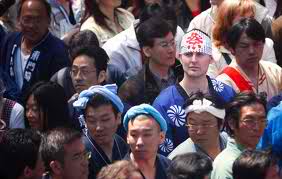 Another thing, in a crowd.. you are not gonna 'blend'.  I would say that because of my darker skin tone in a crowd probably 50% of the people around me don't even notice me if I'm wearing just a t-shirt, sandals and shorts.  They assume I'm Filipino at first glance.  But being White and especially with Blonde hair.. in a sea of short, darker skinned, dark haired Filipinos at the mall… people spot you from a hundred yards.  Now, again.. there are pros and cons.  It means all you gotta do is get yourself some iced tea and sit for a while and some of the prettiest Filipinas will come to introduce themselves to you.  Women will flirt with you just passing by in a crowd.  When I'm dressed in a Polo shirt or anything nicer than a t-shirt.. women here know right away I don't look typically Filipino up close and they flirt/smile all the time with me throughout the day.  It makes dating really easy because all you gotta do is start a conversation with, "Where can I find a good place to eat?" or "Excuse me, I know you must have many boyfriends chasing you every day but, would you mind giving me your text number so we can chat sometime?" and Bamm!, you are in like Flynn.
However.. in the 'big city' environments like Manila, Angeles and Mango Square in Cebu, it also means every street hustler, pimp and pick-pocket sees you coming as well.  Now, before you get alarmed, realize that white-guys roam all over these areas all the time and should you get into any real hassles there's a good chance the other, decent, Filipino guys around you may even come to your aid.  After all, most everybody here wants to have a white-guy as a friend and what better way than to cover your back if they see a 'situation' developing.  I know of an old white-guy who was in the midst of a minor altercation as a guy tried to intimidate his wallet away from him.  In moments about five taxi drivers from the street came and surrounded him to make sure the offending Filipino knew it was time to leave.   So, use the same precautions you would if visiting Mexico when in the deeper parts of the inner-city and you should be fine.
On a side-note, here in Mactan I roam the streets a lot around midnight since it's cooler and I need some exercise I won't do during the heat of the day.  Here, I see 14 year old girls walking around at 11pm together.  It's pretty safe in the smaller towns and communities.  It's areas like the Carbon Market you don't want to be strolling around after dark alone.  No different than some parts of Los Angeles or any big city.
Meanwhile, once you are here.. it is SO easy to pick up on women it will just blow your mind.  And really HOT women who might not have given you the time of day back home.  Just be on the alert that if they are really, really forward there's a good chance she's a Pro and will be asking for money.  But, if you are spotting them.. the good-girls who are way too shy to approach you.. wow, you will be surprised how open they are to immediately having some conversation.  I'd say about 99% of the new-girls I meet for the very first time offer me their text-number if I haven't asked for it before leaving.  Now.. on the online dating sites.. if you are a light-skinned Foreigner AND already in the Philippines, you have got it made.  Be sure to list your location as in the Philippines.  For me, because I am darker toned, I get the occasional Inbox message written completely in Visayan.  I also know many Filipinas are seeing my photo among a sea of white-guys and passing on me because they assume I'm Filipino.  But even so, I'm getting dozens more responses than I ever did back in the States.  Too many to handle as it is even with being presumed Filipino so, as a light-skinned guy you will be a big hit in the online dating sites.
So, I'd say.. don't fret.  There are more positives than negatives to being light-skinned and blue-eyed around here to more than make up for the minor negatives.  If you're going to be here long-term, the best defense you can invest in is.. LEARN THE LOCAL LANGUAGE.  The moment you begin haggling Tricycle or pineapple prices in the local dialect.. suddenly you get the local price!  Now they know.. (a) You are not a 2-week tourist, (b) they assume you're married to a Filipina and (c) they are impressed that you've assimilated and, bingo.. you're getting the local rate.  🙂
Henry V.
www.lifegoeson.net
About Me.. In 2011 I made the decision to move to the Philippines within a year. Since 2012 I've been traveling through various islands of the Philippines as a full-time Expat. (Mactan, Bohol, Panglao, Moalboal, Dumaguete, Bacong, Boracay, Cebu) I recently spent the year living in Ho Chi Minh City, Vietnam.
Share with me here my ongoing adventures of life in the Philippines. Dating, vlogging, cooking, traveling and sharing the information with you needed to make your own plans for living as a full-time expat in Southeast Asia.
— Reekay