Question:  "Joseph Heupel here..  I was told I must have a round trip airline ticket to enter the philippines and must leave the country and return every two years and I was forced to pay $50.00 every year for a tourist card and register and pay fees to immigration every two months.  Your [bio] says you entered the country with a one way ticket???  How do you avoid all the BS I have endured for years????????"
— From Joseph Heupel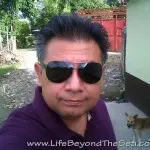 Henry:  In my case, unlike most sane people who first visit then return home to think about it and return later.. I wanted to come here and stay here sight-unseen.  But I didn't want to pay for a round-trip ticket I had no intention of using.  Since I intend to stay indefinitely, constantly paying $100 to re-extend my plane ticket is not a viable option.  But then, neither is spending $750+ for a ticket I wouldn't use either.
That's where the idea of a "Throw-Away Ticket" came into play.  I found out about it from other ex-pats and did it myself when I came here.  First I booked a One-Way ticket to the Philippines from my home country (USA) after doing some shopping online (Priceline.com.. I'm a big Shatner fan) .  Then.. I got my 'throw-away' ticket from Air Asia.com for a cheap ticket (about $24) going from Philippines to Malaysia.. with a departure date of less than 21 days from my arrival in Philippines.  And I was all set.
Sure enough.. when I checked in at LAX/Los Angeles for my flight (I went with Cathay Pacific, I liked it).. they asked me for my Return Ticket to comply with Philippines immigration requirements.  It really should be called a "Leave the Philippines" requirement because it's not necessary that you return to your home country.. it's only necessary that you leave the Philippines after your initial 21 days as a 'Tourist'.  So.. I showed the LAX check-in lady my ticket I'd gotten from Air Asia, she gave it the once over and processed my boarding pass to go to the Philippines.
When I arrived in the Philippines I made a note on my calendar of THAT DAY'S DATE.  The 21 days start the day of your arrival (you may already know all this part, but for sake of new readers I'll re-state it).  As for that ticket I got to Malaysia, you guessed it.. I had no plans to use that ticket.  I had it ready to show to the Philippines customs/immigration people when I got off the airplane in Mactan/Cebu Airport but they didn't even ask for it.  They might though, so have it with you when you arrive.
Around my 19th or 20th day I then visited the BI (Bureau of Immigration) and simply have been extending my Tourist Visa ever since.  Usually for a 2 month period at a time.  I can do that for about 13 months and then I need to take a REAL departure anywhere outside the Philippines for at least 24 hours.. return with another throw-away ticket and.. repeat the process.  I figure it'll be a good excuse to visit Thailand or Malaysia when the time comes.  Meanwhile, no need to pay for a full round-trip ticket back to the States.  Easy-peasy.
As for the bi-monthly fees to extend a stay here as a 'tourist'.. no way around that.  However..
There is one way to get around this whole 2-month renewal nonsense.. marry a Filipina and get a change to resident status as her husband.  But being as how there is no divorce in the Philippines you may want to be really, really sure she's "the One".   🙂
Henry V.
www.lifegoeson.net
Since 2012 I've been traveling through various islands of the Philippines as a full-time Expat and spent 1999 living in Vietnam.
Share with me my ongoing adventures of life in the Philippines. Hopefully you find my observations helpful in your own adventures.
— Reekay