Oil spill affecting Palawan villages
An oil spill from the MT Princess Empress, which sank off the coast of Oriental Mindoro province last week, has put several fishing villages and coral reefs at risk. The tanker was carrying 800,000 litres of industrial fuel oil, which has now reached the shores of the nearby villages, coating beaches in black sludge. Residents have reported experiencing cramps, vomiting and dizziness. Clean-up workers deployed to the affected village of Pola have also reported feeling ill.
Breathing fuel oil vapors can cause symptoms such as nausea and headaches, while skin contact may cause itchiness and blisters. The Philippines Coast Guard has been trying to contain the spill for over a week, deploying oil spill booms and spraying chemicals in efforts to control the spread. Authorities said on Monday they believed they had located the ship, which had moved from the spot it sank last week.
Philippines authorities have declared a state of calamity for the affected areas in the province and imposed a fishing ban until the spill is cleaned up. More than 18,000 fishermen across 60 villages have been barred from the water, local authorities said. This ban has a huge impact on the livelihoods of many locals in the area. The Philippines' tourism ministry has also raised concerns about the spill-tainting waters at popular diving destinations including the Verde Island passage and Apo Reef in Mindoro and World War Two shipwrecks in Palawan.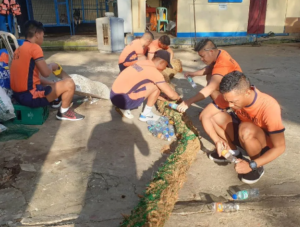 Some 36,000 hectares (88,958 acres) of coral reef, mangroves, and sea grass are also at risk from the spill, marine biologists say. Oil can kill corals or impede their growth. It can also poison or suffocate wildlife, which further disrupts food chains and ecosystems.
The tanker's owner, RDC Reield Marine Services Inc., has contracted two local agencies for the clean-up. Experts say authorities are verifying how much oil is left inside the tanker, and how to pump the remainder out and prevent further leaks.
It is not yet clear what caused the Philippine-flagged vessel to sink in rough seas. All 20 of its crew were rescued by a passing cargo ship before the vessel went down. According to authorities, investigations are still ongoing.
The oil spill has sparked concerns among environmentalists who say the incident could have long-term impacts on the region's marine biodiversity. "This is a disaster for the people who depend on the ocean for their livelihoods, as well as the marine life that calls this area home," said a spokesperson for the World Wildlife Fund Philippines.
The Philippine government has appealed for international assistance in dealing with the spill, which has already caused significant damage to the region's ecology and economy.
Since 2012 I've been traveling through various islands of the Philippines as a full-time Expat and spent 1999 living in Vietnam.
Share with me my ongoing adventures of life in the Philippines. Hopefully you find my observations helpful in your own adventures.
— Reekay