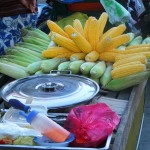 Due to a nearby topical storm the day was a bit overcast but nice and cool.  So I grabbed my camera and decided to visit the Public Market at Lapu Lapu since I'd only seen it in passing on my way to the Ferry once before.  What a busy place!  Lots of people, food, vendors and even a small parade appeared.  At the end of the day I began to walk towards what I thought was the area I'd most likely find a cab.  I made a wrong turn and next thing I knew I was walking 2 miles in the rain before managing to catch a Tricycle back to town.  Even so, a fun experience.  🙂   — Henry V.
(p.s.  Press the F11 Key on your keyboard to view in Full Screen Mode) 

Since 2012 I've been traveling through various islands of the Philippines as a full-time Expat and spent 1999 living in Vietnam.
Share with me my ongoing adventures of life in the Philippines. Hopefully you find my observations helpful in your own adventures.
— Reekay