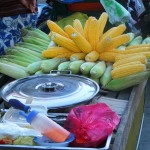 Due to a nearby topical storm the day was a bit overcast but nice and cool.  So I grabbed my camera and decided to visit the Public Market at Lapu Lapu since I'd only seen it in passing on my way to the Ferry once before.  What a busy place!  Lots of people, food, vendors and even a small parade appeared.  At the end of the day I began to walk towards what I thought was the area I'd most likely find a cab.  I made a wrong turn and next thing I knew I was walking 2 miles in the rain before managing to catch a Tricycle back to town.  Even so, a fun experience.  🙂   — Henry V.
(p.s.  Press the F11 Key on your keyboard to view in Full Screen Mode) 

About Me.. In 2011 I made the decision to move to the Philippines within a year. Since 2012 I've been traveling through various islands of the Philippines as a full-time Expat. (Mactan, Bohol, Panglao, Moalboal, Dumaguete, Bacong, Boracay, Cebu) I recently spent the year living in Ho Chi Minh City, Vietnam.
Share with me here my ongoing adventures of life in the Philippines. Dating, vlogging, cooking, traveling and sharing the information with you needed to make your own plans for living as a full-time expat in Southeast Asia.
— Reekay