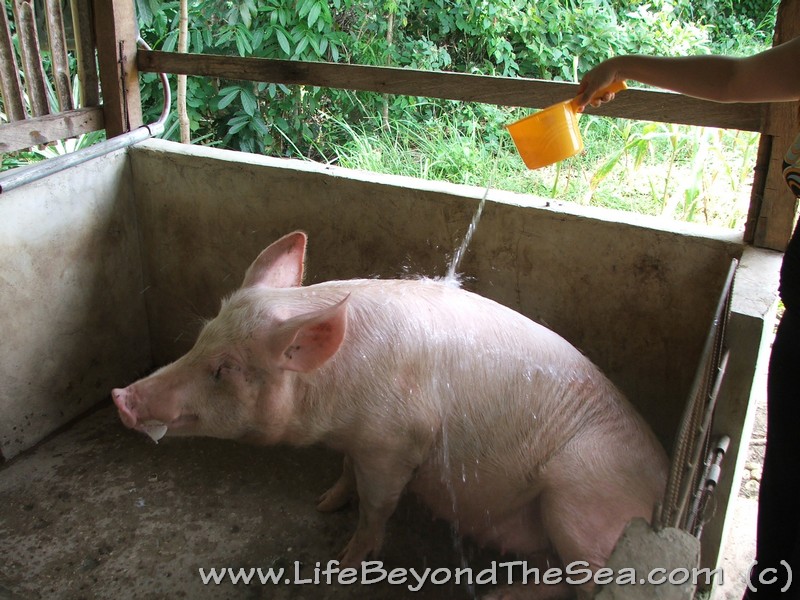 I've written about some of the details related to what's involved and the profit to be made from starting a pig farm in the Philippines, including video.  Here I wanted to share some of the sharper, higher-res images I shot while out on my excursion to see my piggies on the farm.  They are fed well with clean grain, seen by a vet and kept clean so, I guess they're pretty happy and comfortable.  
The new caretakers are working out much better than the previous ones, and that's made all the difference.  If you plan on having a Piggy-Farm in the Philippines as a source of extra income, you gotta have people you can trust to care-take the land for you.  Unless you plan on doing it yourself.  We had problems you wouldn't believe with the first people we had.  Meanwhile, we also have some carabao, moo-cows and a buffalo (I think, not really sure what it is).
I've written another, more in-depth article on how things have been going a year after starting this little experiment.  I also cover the idea of starting a business in the Philippines in general and some of the things to consider before getting started.  In our case, my partner and I have this farm partly as a labor of love, a way to help out a friend with a job and as a land investment.  It's not been huge money especially since any profits have been going  into expanding more and more stalls so that we can handle about 100+ piggies simultaneously.  Before you even buy your first piglet or Momma-piggy.. you want to consider these things first;
Location
A rural area, of course, out in the province.  But do not just buy some property anywhere in the province just because some family member has some for sale or lives on it and is willing to care for your piggies.  That is a HUGE MISTAKE.  If (and when) you have disagreements, all your investment is at the mercy of being in their hands while you are away.  If they live there, you can't fire them and there you are.. stuck.  Next thing you know, piglets are 'disappearing' as they make money on the side selling your piglets to neighbors while you shoulder all the expenses.
Speaking of the neighbors, visit the property and check out which direction the wind carries.  If it's going to blow the smell of pig-poo right into the neighbor's kitchen.. you are gonna have issues down the road.  Much better if you can find a piece of land with no neighbors for about an acre or two away.  And it you can at all work it out.. get a piece of land that has either a slope to part of it or even better a nearby river like the one I have.  Unless you drain the water from rinsing out the pig-stalls away from the property.. having it sit and fester is not only going to smell but will be a breeding ground for mosquitoes.   You'll also want to ask whether or not there is a well on the property and an electric line.  If not, it may cost you to have it brought in.  And finally, a septic tank for the caretakers near a Nipa hut for them to live in.
Food and Vet Care
Pigs.. well, they eat like pigs.  If you want good meat then you should ONLY feed them pig grain from a feed store.   We made the mistake with our first caretakers of giving them money to buy the grain.  Well, guess what?.. they bought the minimal amount of grain and pocketed the rest of the money.  So, hook up with a grainery supply house locally yourself and set up an account with a deposit.  This way you get an itemized bill to monitor how much grain is being bought and you pay them directly at the end of the month.  Even so, keep inventory if you can on the sacks of grain as a dishonest caretaker will simply sell those on the side too.  I'm not being accusatory.. once you've lived in the Philippines awhile, you'll know what I'm talking about.  The mentality here is that if there's so much of it and you're "so rich".. it's not really stealing to poach some inventory for some extra pesos.
Piggies do get sick every so often and need shots so ask around for a decent Vet to stop by once a month and recommend both shots and a purple spray antibiotic for cuts the piggies may get rolling around and scraping on the stalls.  Without a vet, expect to lose even more then 40% of your piglet litters due to disease or infection.
Piggy Stalls
A good piggy stall needs the following;  Cement floor.  Adequate shade w/roof for rain.  Easy drainage for cleaning.
Yah, you could just make a pen out in the sun but, expect to lose some piggies to the heat.  And you need a floor with a slant leading down to a drainage hole which is then made to flow into a cemented trough so the run-off water from cleaning can go away from the stalls.  In my piggy-stalls the water diverts to a small river on the property.  If you are on flat land, see about making a make-shift septic hole.  This is done with a big hole.. filled with large stones and some PVC pipe.  The stones allow new drainage water to go in and then it filters into the ground around it.
While the idea of a Momma-piggy cranking out 15 piglets which are then sold for lechon after 3 months seems like a really profitable idea.. you will have challenges.   Expect to lose some piglets that die the first week.  Expect piglets to be sold under the radar if you are not around.  Expect your grain bill to increase to feed all those new piggy-tummies.  And expect the weirdest demands from your caretakers at a moment's notice.  Like expecting bonuses and a free piglet from every litter.. that sort of thing.  You have to be firm about their wages per month.  And don't be surprised if they tell you, "We spent all our salary for the month, send us some more."  I mean, back in the States if I told my boss something like that he'd just say, "That sounds like a 'you' problem.. not a 'me' problem."  But here in the Philippines, it's par for the course, so be prepared.
I hope you find some of this useful and.. enjoy the photos!
Reekay
www.lifebeyondthesea.com
About Me.. In 2011 I made the decision to move to the Philippines within a year. Since 2012 I've been traveling through various islands of the Philippines as a full-time Expat. (Mactan, Bohol, Panglao, Moalboal, Dumaguete, Bacong, Boracay, Cebu) I recently spent the year living in Ho Chi Minh City, Vietnam.
Share with me here my ongoing adventures of life in the Philippines. Dating, vlogging, cooking, traveling and sharing the information with you needed to make your own plans for living as a full-time expat in Southeast Asia.
— Reekay