Well.. here it is (finally).  The Mega-Gallery of my photo-safari covering two days of the Sinulog Festival in Cebu (and Mactan) for the year 2013!   While it is a week-long festival the culmination takes place with the huge parade which shuts down all of downtown Cebu to only foot traffic for the event.  Massive numbers of people for miles, many of them flying in from around the world for this big, traditional event.
I began the day before, in Mactan, during the day to catch the parade of boats along the bay that runs between Mactan and Cebu.  Later that evening I arrived at Fuente Circle in Cebu, downtown and walked much of the pre-parade route.  Fuente Circle is a circular park area inside of a large turnabout in Cebu.  For the festival they had numerous booths selling everything from food to cell phone services and Henna tattoos.  A large stage was constructed for a concert that went late into the night.  And yes.. if you ever wanted to
meet lots and lots of 'Promo Girls'.. this was the place to meet them as they represented many of the big companies in the Philippines such as Globe, Cobra Drink, Smart and others.
I enjoyed the area there for several hours until about 11pm despite the fact that I had only slept two hours the previous 24 hours.  I guess my mind wasn't really hitting all cylinders because my first plan was to simply stay awake another 24 hours, walking and cat-napping in the park area with the hundreds and hundreds of people there doing the same.  Around 11pm I began to make my way over to Mango Square which is where, even on a regular weekend, much of the party and club action is going on.  And yes, it was in full swing with bands and stages set up in various parking lots playing everything from Club to Reggae.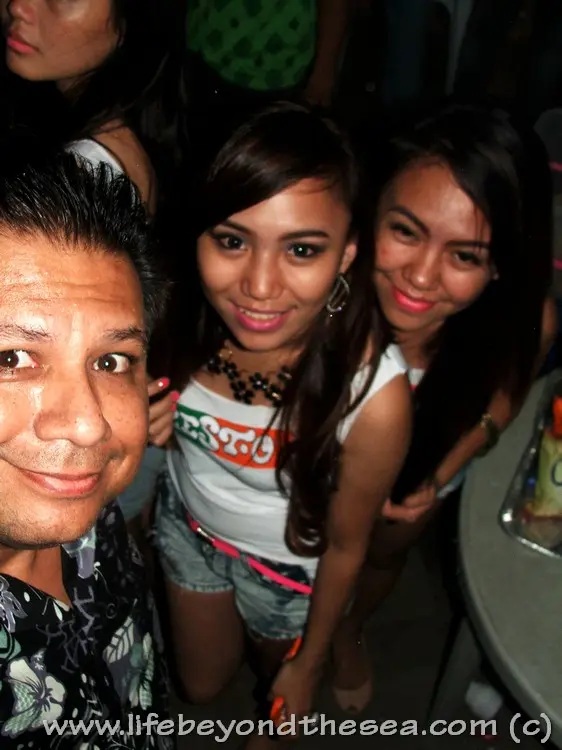 I only spent about 30 minutes inside of Mango Square itself.  It was literally shoulder-to-shoulder despite the fact that all the streets for more than a mile had been cordoned off since the morning.  The streets and the Mango Square area were simply packed with people.  I love this sort of atmosphere.  There was a decent enough police presence and most everyone there was simply out to have a fun time.  After checking out the thick crowd I'd have to get through (with my backpack full of camera gear) I decided it was best I make my way back to Mactan for some sleep and return in the morning for the big parade.
But deciding is one thing.. moving through an ocean of people is quite another.  There in the waves of people, semi-darkness and loud music I suddenly felt an arm slip in from behind me and pull me close.  At first glance I thought it was a drunk Filipina who had gotten hold of me.  Nope.  It was a very attractive ladyboy who had his/her eye on me apparently and was laying claim to me as I tried to move through the crowd.  Screaming into my ear over the noise 'she' said, "You look so alone.. I will keep you company.  I will take GOOD care of you all night!"
Hmmm, okay.. how to handle this in a polite manner?  I figured if I just pushed my way through the crowd she would sort of peel away and I'd make a break for it once I got to the sidewalk.  Well, no luck of that happening.  With her arm around my waist and me clutching my camera bag and new aluminum tripod she stuck right by me.  "The good thing is this is still a manageable situation.", I remember telling myself.  I seem to attract ladyboys like a magnet here.  Maybe because I'm a foreigner.  Maybe because I have a kind face.  Maybe because I don't check to see if it's a ladyboy before giving a smile and a wave as I go through the crowd.  But no, this was not as manageable a situation as I thought.
'We' made it to the sidewalk and who should appear?  Another ladyboy who was this one's close friend.  And I gotta admit, even cuter than the first one and the first one was no slouch either.  So now.. I have a ladyboy on each arm and they are pretty much escorting me through the thinner crowd into the street telling everyone to move out of the way so we can pass.  I told them it was all very nice to meet them and all but I really had to get going.  "But where are you GOING?" they asked.  "Well, probably a hotel or home.. still not sure which."  That was a mistake.  They said they knew of a motel just down the street and grabbed my arms even tighter.  I then told them I was going to get a taxi and return to Mactan.  They wanted to come along.  I said no, I really need to get sleep for the big parade in the morning.  They countered by saying it sounded like what I needed was a massage and they were both every bit as giddy as they were anxious to take turns giving me one.
Seeing as I was getting nowhere with them I resorted to simply being blunt.  I stopped , turned around and told them both, "Look.. here's the thing, you're both very wonderful, helpful and all but.. if you're looking to maybe make some money for a 'massage', it's just not gonna happen.  I gotta get home and I don't want to waste your time.  So.. thanks for the walk but, I gotta go."
Now, I thought that was fairly clear and to the point.  Their only response was, "What??.. you don't like us?"  The other one chimed in, "Am I not sexy for you??"  Exasperated I just threw up my hands as I left and said, "Been fun!.. but, gotta go!!  Bye!!!", and I made my way down the road as they returned to Mango Square in search of a new distraction.  But now, I had to travel over a mile of blocked roads to find a taxi and it was already after midnight.  I finally found one somewhere around 1a.m.  I got home around 2a.m. and was up again, showered and downing some coffee by 8a.m.  By 9:30a.m. I had gotten a taxi from Mactan to the cordoned off zone of Cebu and began taking photos again.
It was a long, long 48-hours but I had a fantastic time mixing into the crowd and walking right in the parade to get my photographs.  Several Japanese photographers and I kept jockeying for prime spots during the day but it all worked out fine.  There was FOOD
everywhere and I even located a clean bathroom along the parade route.  I took a one-hour break at the mall for a chance to sit down and then was at it again until the parade ended around 5pm.  At one point I was in a crowd so thick that I was at times moving with my feet barely touching the ground.  I just sort of 'floated' in a literal 'sea' of humanity.  I must have walked at least six to seven miles, maybe more since I covered the parade route three times over the two days.  I slept pretty good that final night, about ten seconds after I hit the pillow.
So now, here is the gallery with about 2/3rds of the photos I took.  I hope you can get a feel for the festival with them and perhaps someday experience it for yourself.  It is held every January around the 3rd week.  Details are at the official Sinulog Website.  Enjoy!
Henry (Reekay) V.
www.lifebeyondthesea.com
About Me.. In 2011 I made the decision to move to the Philippines within a year. Since 2012 I've been traveling through various islands of the Philippines as a full-time Expat. (Mactan, Bohol, Panglao, Moalboal, Dumaguete, Bacong, Boracay, Cebu) I recently spent the year living in Ho Chi Minh City, Vietnam.
Share with me here my ongoing adventures of life in the Philippines. Dating, vlogging, cooking, traveling and sharing the information with you needed to make your own plans for living as a full-time expat in Southeast Asia.
— Reekay