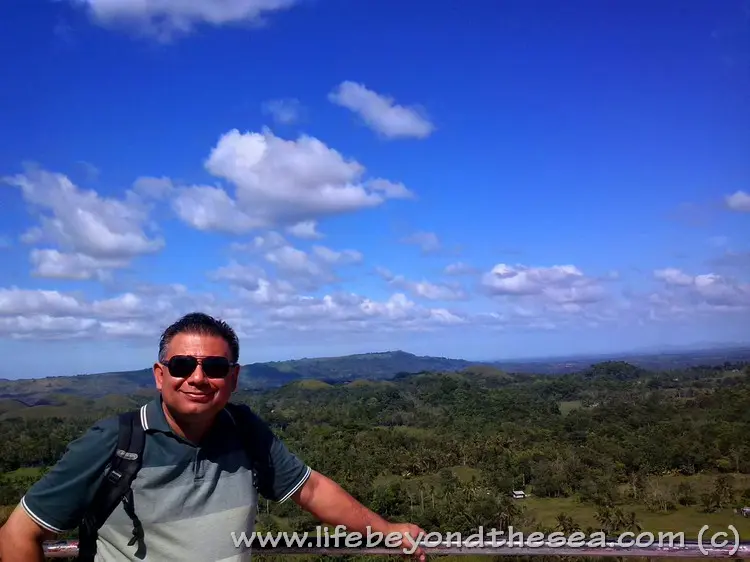 As I mentioned a while ago, my 50th birthday came up in February.  I really hadn't put any thought into what I was going to do for the day since I'd kinda told myself my photo safari into the annual Sinulog Festival in Cebu would be my early birthday present to myself.  But my very close friend, Delia, offered to take me to Bohol for the day and so.. off we went to visit her relatives and take a trip to the Chocolate Hills.
The day started off kind of insane on my end as I tried to meet them at the Cebu Pier that morning.  There are three Piers on the Cebu side and two of them go to Bohol, but with different ferries.  I was half-asleep from not being much of a morning person and even though I packed the night before I found myself leaving Mactan-Basak at around 8:40am to catch the 9:20am fast-ferry to Cebu.  It's normally only a 30 minute commute by taxi so I figured everything was cool.
Since I was planning to move to Bohol later in the month, I had packed two large suitcases (with wheels, thank God) of my stuff so I could leave it at her brother's house until I moved in.  I tossed those into the taxi and told the driver to take me to the Pier to get to Bohol.  I must have told him Pier 3 instead of Pier 1, or vice-versa and not even realized it. On top of this, we ran into morning traffic and now.. I was officially running behind schedule.  The ferry was set to leave in 15 minutes and my taxi had just barely gotten within sight of the piers.  When I got there I paid him, dragged my two large suitcases out of the trunk and proceeded to rush to the pier terminal.
And that's when it hit me.. I'd gone to the wrong pier.
Ferry was leaving in 10 minutes and I still wasn't sure whether I needed to walk several blocks south or north to get to the correct pier.  I then spied a unique building that I knew was near the correct pier and began lugging about 200 pounds of luggage as fast as I could down the street in hopes of making it on time.  I stopped to send a quick text to let Delia and her brother know I was on my way.  About 3/4 the way there and a Filipino offered to help me carry my luggage.  I was tired, my arms were sore but this was no time for drama with some stranger that may or may not cause me problems.  I told him, "No thanks, I got it." and didn't even break stride as I rushed past him hoping to make it to the terminal in time.
It turned out that was Delia's brother who she'd sent to help me carry the luggage.  Duh.  I didn't recognize him at first until he mentioned that she'd sent him.  Only 4 minutes to make it to the terminal.
We got inside and.. a big line.  Ferry was set to leave at 9:20am and it was now 9:19am with at least five people in front of us.  Oh.. we were SO screwed.  But figured at worst we'd catch the next one.. in two hours, and kill some time at a local chicken place for breakfast.. which I'd skipped.  But no, fortunately we got processed.. rushed to the ferry practically as they were pulling up the loading plank and breathed a sigh of relief as we took our reserved seats!  Ahhh.. we'd made it!
Things went fairly smoothly after that.   A nice ferry ride, met with Delia's other brother at Bohol who drove us to his home where.. SURPRISE!, they'd gotten together some of the neighbors and family to make me a birthday party.  🙂  I was totally not expecting that.  We had some really good food and afterward I took another tour of the home I'll be renting out just down the road from them to mentally figure where I'd put what little furniture I have.
Delia, her two brothers and myself piled into a mini-truck and were off to a chicken restaurant later and from there we went to Alona Beach, the man-made forest and finally to see the Chocolate Hills.  It was really nice up there, a cool breeze and a fantastic view in every direction.  All in all it was a very unique and exotic birthday for my 50th.. one that I'll never forget!  Hope you enjoy the photos.  I am planning to eventually return to the Chocolate Hills on a slow mid-day after I move to Bohol so I can spend the whole afternoon getting some HDR shots with a tripod.  Most of these I shot with my LG5 phone since the batteries on my digital had lost their charge.  Enjoy!
Henry V.
www.lifebeyondthesea.com
About Me.. In 2011 I made the decision to move to the Philippines within a year. Since 2012 I've been traveling through various islands of the Philippines as a full-time Expat. (Mactan, Bohol, Panglao, Moalboal, Dumaguete, Bacong, Boracay, Cebu) I recently spent the year living in Ho Chi Minh City, Vietnam.
Share with me here my ongoing adventures of life in the Philippines. Dating, vlogging, cooking, traveling and sharing the information with you needed to make your own plans for living as a full-time expat in Southeast Asia.
— Reekay